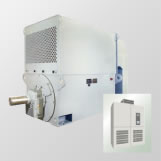 General-purpose electric motor

Medium voltage inverter driven motor

Medium voltage electric motor for variable speed operation
Product Features
Energy saving can be made more efficiently if the inveter does the variable speed operation of an electric motor with square reduced torque load such as a fan pump.
It can be also used for constant torque load.
Energy saving
Wide range of activities in medium voltage use
Specifications
Output

(kW)

90-1800
90-3750
Voltage
3 kV system
6 kV system
Please feel free to contact us for the specifications that are not described in this table by using the Internet inquiry form.
Quick reference table
This is a quick reference table showing the ranges of each series motor voltage and capacity . Just one look, you could see our offerings.
General purpose electric motor

Category
Models
Voltage
Output

(kw)

Low voltage standard electric motor

Low pressure cage type 3-phase induction motor
200 V /
400 V Series
Low noise and low voltage cage type 3-phase induction type electric motor
JF2000 series fully closed splash-proof housing surface self-cooling type
3000 V /
6000 V Series
JS2000 series fully closed splash-proof air cooling heat exchanger type
JS2000 series protection drip-proof free ventilation type
JS2000 series protection drip-proof free ventilation type
JS2000 series protection splash-proof free ventilation outdoor type
JS2000 series fully closed splash-proof water cooling heat exchanger type
JF2000 series vertical shaft and fully closed splash-proof housing surface self-cooling indoor (outdoor) type
JC2000 series vertical shaft and protection drip-proof free ventilation indoor type
Low voltage explosion-proof and low voltage cage type 3-phase induction motor
200 V /
400 V Series
Increased safety explosion-proof and low voltage cage type 3-phase induction motor
Medium voltage 3-phase cage and explosion-proof induction motor
3000 V /
6000 V Series

Low voltage inverter driven motor

Inverter driven low voltage cage type 3-phase induction motor
200 V /
400 V Series
3000 V /
6000 V Series
Inquiries about this product