Power conditioner for solar power generation

Bureau of Sewerage Tokyo Metropolitan Government, Kasai Water Reclamation Center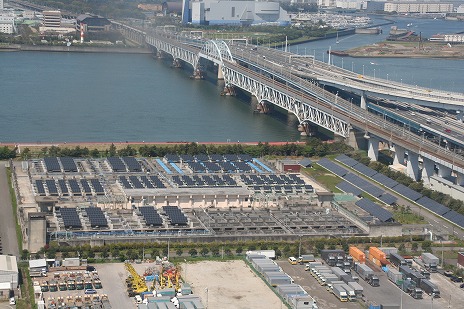 Merits of introducing our product(s)

Maximum output 490 kW, Estimated power generation (annually) about 590,000 kWh
Capable of reducing the generation of greenhouse gas by about 220 tons annually
Background of Introduction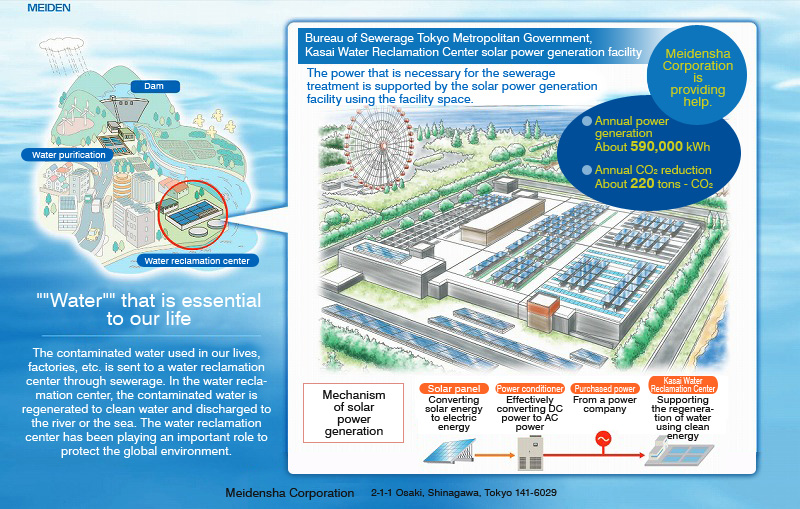 In order to reduce the exhaust amount of greenhouse gases by 25% (compared to that in FY 2000) till FY 2020, the Bureau of Sewerage Tokyo Metropolitan Government has been taking action enthusiastically by formulating a new plan to prevent global warming, "Earth Plan 2010". A solar power generation facility was introduced as a part of their policies.
We have been delivering an integrated system of a uniaxial tracking mount in which solar cells move in accordance with the direction of the sun, power conditioners, etc.
Products of supporting Mega Solar
PCS (power conditioner)

Main part of the solar park in which the output from the enormous numbers of solar cells is effectively converted to AC power.

Solar cell

The CIS solar cell manufactured by Solar Frontier K.K. is adopted.

Monitoring and control systems

We implement a system that significantly contributes to the operations of a solar park such as the status of power generation and the condition of equipment. We also propose countermeasures to stabilize the systems that will be required for a solar park in the future by using our technical strength acquired from abundant achievements (Wakkanai Solar Park, China, Laos, etc.).

Interconnection substation

We propose the optimal transformer from our many years of achievement as a heavy electrical machine manufacturer.
Products and services in use for this case study