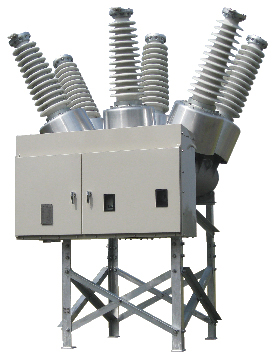 Vacuum Circuit Breaker (VCB)

Ecotank Type Vacuum Circuit Breaker (Dry Air Insulation)

This is an environmentally-friendly vacuum circuit breaker (VCB). Considering the climate change, we made VCB with totally SF6 gas-free and resource and energy saving features.
Product Features
Dead Tank Type VCB optimized for green procurement. It uses dry air for insulation in place of the SF6 which is specified as a greenhouse gas. Our basic design concept is to realize the environmental factors in design (The 3Rs (Reduce, Reuse, and Recycle) + LS (Longuse & Separable)) and life-cycle cost (LCC) reduction as basic concepts.
[Reduce] No use of SF6 gas (a greenhouse gas), reduction of eddy current loss by adopting an aluminum tank, reduction of mass by using aluminum materials, and compact design.
[Reuse / Recycle] Reuse of non-rusting and non-corrosive components (reuse of the aluminum and copper materials)
[Long Use] Longer operational life by adopting the VCB
Long operational life without requiring the repair paint work as it uses the aluminum materials
[Separable] Ease of decomposition and collection (no need to collect SF6 gas by collection equipment , no need for SF6 gas reprocessing)
Applications and Solutions
36/72/84 kV VCB (for Japan Market ) - compliant with the JEC-2300 Standard (for AC circuit breakers).
36/72.5 kV (for overseas markets ) - compliant with IEC 62271-100-2008 and ANSI C37.06-2009.
Specifications
Type and rating

Type
NBOA-60532BA
/BB
NBOA-60732BA
/BB
NBOA-70532BA
/BB
NBOA-70732BA
/BB

Rated voltage (kV)

72
84

Rated lightning impulse withstand voltage (kV)

350
400

Rated current (A)

1200
2000
1200
2000

Rated frequency (Hz)

50/60

Rated short circuit breaker current (kA)

31.5※

Rated transient recovery voltage (kV/µs)

0.75

Rated contact opening time (s)

0.03

Rated interrupting time (starting time to ending time)

3
Standard operatino duty
A (O - 1 min - CO - 3 min - CO), B (CO - 15 sec - CO), R (O - 0.35 sec - CO - 1 min - CO)

Contact closing time (s)

0.13

Rated closing operation voltage (V)

DC 100/110

Rated control voltage (V)

DC 100/110

Rated air pressure (MPa-g)

0.5 (dry air) (20°C)
Operation system
Electric energy storing for energizing spring, spring injection, and spring interruption
Applicable standards
JEC-2300(1998)
* We can provide 40 kA model.
Inquiries about this product