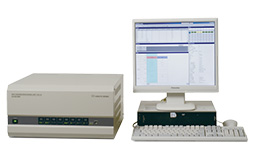 Products

Battery Charge / Discharge System HJ Series

HJ Series offers various function-specific models applicable to various measurements for Battery basic research etc.
HJ-SD8 Series can provide the half-cell measurement by 3-electrode-method using the reference electrode and can provide the each characteristics evaluation test on positive and negative material (on independent four terminal and realizing the high input impedance).
Features
Minimum Discharge Voltage can be set till -2V and can conduct the complete discharge test.
The PC connected to HJ series, it can perform the multi-channel simultaneous test and various battery characteristics data analysis.
HJ-SD8
Independent 8-channel charge and discharge control.
Minimum data sampling time interval is 10 ms.
Equipped with transient recorder function that collects the transient data at 10 ms.
(at a moment of switching to discharge mode from charge mode during long-hour measurement.)
Equipped with CC-CV operation which has digital control for minimum overshoot.
Auto-select for current range.
The digital filter reduces noise.
(It can function at the setting of more than 500ms data saving time interval.)
Equipped with Constant Power Control mode and Constant Resistance Control mode.
The system status, measurement progress and pre-set measurement conditions can see on one screen.
Capability to program maximum 20steps and 50patterns.
Equipped with jump function which repeats the continuous few patterns.
Equipped with High speed multi-step function:
1step-20stages(max) and 1stage can set at 10ms(minimum)
Capability to control the maximum 16 units (128 channels) by using the server PC and client PC.
*

One PC System can control 6 units (48 channels) maximum.
Specifications
Type
HJ1001SD8
HJ1005SD8
HJ1010SD8
Channel
Number
8ch
Setting
Independent setting every each channel
Control
Voltage
-2-10V
Current
±1A
±5A
±10A
Step time
0.1 sec -100 days (resolution 0.1sec)
Range
Voltage
10V
Current
1A, 100mA, 10mA,
1mA, 100µA, Auto
5A, 500mA, 50mA,
5mA, 500µA, Auto
10A, 1A, 100mA,
10mA, 1mA, Auto
Control method
CC, CC/CV, CP, CP/CV, CR (at discharge mode)
Communication
Connect to PC by Ethernet
Control accuracy
Voltage
±0.05% of control ±1mV
Current
±0.05% of control ±0.05%F.S. (over 10% of F.S.)
Voltage
±0.05% of reading ±1mV
Current
±0.05% of reading ±0.05%F.S.
Protective circuit
overvoltage / overcurrent / voltage line disconnection detection
Power voltage
AC100 - 240V single phase (*1)
AC200-240Vsingle phase
Power consumption
350VA
1000VA
2500VA
Dimensions
(W×H×D mm)
434×225×500
434×225×635
434×597(*2)×450
Weight
19kg
30kg
50kg
*1

The attached power supply cable is AC100V use only.

*2

It includes a caster. (It is 550mm only body)
*

It cannot let HJ-SD8H series mix with HJ-SD8 series in the same system.