About Us

Milestone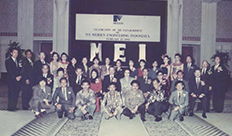 On March 22nd, 1991, PT. MEIDEN ENGINEERING INDONESIA is established as a foreign company (PMA) joint ventured authorized by BKPM.
Back to more than one hundred years ago, MEIDENSHA CORPORATION Japan has been established as a manufacturer of Power & Industrial electric machinery in 1897 and had opened an office here in Indonesia in 1962 as a liaison representative for supporting maintenance and communication to the customers which MEIDEN products had been delivered.
In addition to private company sector, from the 70's we started to participate in state oil, electric and railway company's project spread across Indonesia.
Since the establishment, PT. MEIDEN ENGINEERING INDONESIA has been supported by MEIDENSHA CORPORATION Japan which has previously held the biggest share in our company. But now, the share is held by MEIDEN ASIA PTE. LTD. which is one of subsidiary companies of MEIDENSHA CORPORATION Japan that oversee Asian Market.
We have become a member of KADIN (Chamber of Commerce and Industry) Indonesia and GAPENSI (Indonesian National Construction Joint Implementation) since 1999.
In 2009, the company was accredited by ISO 9001:2000. In line with our intend to continue to improve our quality of services, we upgraded to the new version, ISO9001:2015, in 2018. Furthermore, at the same year, the company was also accredited by ISO 14001:2015 to commit participation in the program of environmental protection. As part of Meidensha Corporation, MEI recognizes that the safety and health of our employees at work is as the central core value issues, in 2017 the company was acquired the certification of OHSAS 18001:2007.
In order to provide better service to customers, we have opened service office at Delta Mas District, Cikarang, West Java in 2014 and Cigading Business Center, Banten in 2016.
The year 2016 became one of the most important moments for PT. MEIDEN ENGINEERING INDONESIA as it marks 25 years of its existence. Until today, PT. MEIDEN ENGINEERING INDONESIA still keeps striving for its development driven by its new vision "developing into a superior and competitive engineering and construction company that prioritizes to quality and customer-oriented as well as committed to protect, maintain and preserve the environment".