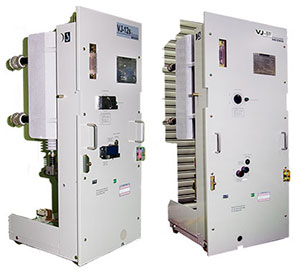 Products
Vacuum Circuit Breaker
MEIDEN vacuum circuit breaker (VCB) employs a proven vacuum interrupter (VI) with excellent interrupting efficiency. It has passed a series of type-tests and is designed, tested and manufactured in accordance with IEC and BS standards under rigorous controls. We are equipped with a very sophisticated and flexible manufacturing setup to make VCB that can withstand operating current up to 2000A. The four major types of VCB and one GIS model are as follow:
Major Types of VCB and GIS
Vacuum
Gas
Type
VJ-12
VJ-12B*
VJ-13
VJ-22
VGC-22
Rated Voltage (kV)
12
15
24
24
Rated Normal Current (A)
630/1250
630/1250/2000
1250/2000
630/1250/2000
1250
Rated Short-Circuit Breaking Current (kA)
25
31.5
25
25
Rated Short-Circuit Withstand Current (kA)
25 - 3 sec
31.5 - 3 sec
25 - 3 sec
25 - 3 sec
Rated Break Time (ms)
60
70
70
Rated Opening Time (ms)
40
50
50
Closing Time (ms)
50
50
Rated Operating Sequence (ms)
O - 0.3S - CO - 3 min - CO
0 - 0.3S - CO-3 min - CO
Rated Lightning Impulse Withstand Voltage (kV peak)
75
95
125
125
Rated Frequency (Hz)
50/60
50/60
Rated Transient Recovery Voltage kV/ms
0.34
0.39
0.47
0.47
Mass (Kg)
120/140
145/175/245
185/245
230/250/305
600
*

VJ-12B supersedes and is downward-compatible with VJ-12A. Certain degree of modifications can be made to the breaker. For example, the maximum operating current of a 630A breaker can be increased to 800A without changing the overall physical size. Manufacturing specialists are trained in Meidensha Corporation in Japan to ensure a high quality is achieved and maintained.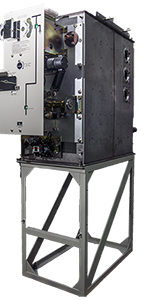 "This high performance VCB conforms to IEC-62271-100 and all primary components employed therein are in accordance to the relevant IEC standards. Furthermore, by incorporating it with SF6 gas insulation, the resulted synergy sets a new dimension with regards to reliability, reduced maintenance and smaller space requirement due to its compact design."