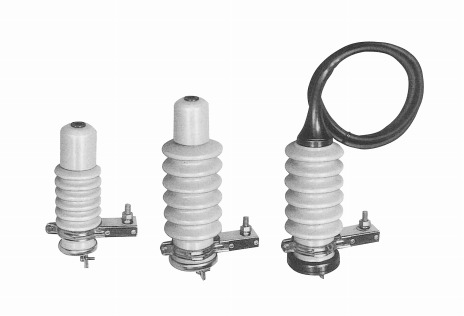 Surge arrester for power distribution

Distribution Class Surge Arresters (ZL-8A Series)

Zinc oxide surge arresters for 6kV distribution systems with a nominal discharge current of 2500 A
Product Features
A practical simple single gap and high performance zinc oxide blocks ensure that this surge arrester is compact and light weight. A reduced discharge voltage has improved the protective performance. Hardly any change in performance of the gap due to contamination, it maintains its stable operatimg performance, protecting distribution equipment from surge voltages.
Excellent protective performance
Managing multiple lightning surges and frequent surges
Excellent resistance to contamination
Compact, lightweight, and easy to handle
Applications and Solutions
It is an arrester for distribution substation for 6 kV system of nominal discharge current 2,500 A.
Specifications
Characteristics of SORESTER for distribution substation

ZL-8A
ZL-8AX
ZL-8AX-M
Type
standard type
contamination resistant type
contamination resistant type


(with a mold cone)

Resistance against contamination

(salt content attachment density mg/cm2)

0.06
0.35
0.35
Rated voltage

(kV, r.m.s.)

8.4
Nominal discharge current

(A, peak value)

2500
Commercial frequency discharge start voltage

(kV, r.m.s.)

13.9 or more (15 or more)
Voltage resistance


(container only)

Commercial frequency


(kV, r.m.s.)

22
22(28)
Lightning impulse


(kV, peak value)

60
60(90)
Lightning impulse discharge start voltage


(kV, peak value)

100%
33 or less (30 or less)
0.5µs
38 or less (33 or less)
Discharge voltage (8/20 µs, 2,500 A)


(kV, peak value)

33 or less (22 or less)
Rated discharge withstand current
Lightning impulse heavy current

(kA) (4/10 µs)

10 X 2 times (50 X 2 times)
Square wave (A)


(2 ms)

75 X 20 times (150 X 20 times)
Lightning surge operation duty

(8/20 µs, 2,500 A)

Same polarity and reverse polarity, each 5 times
*

The value in parentheses represents characteristics of SORESTER superior to the JEC-203 standard value.