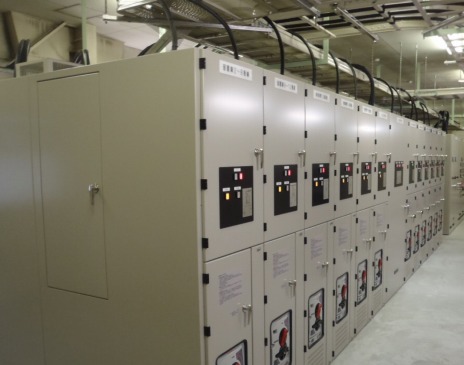 Circuit breaker

ML Type DC High Speed Circuit Breaker (HSCB)

Large capacity, compact and lightweight and JIS -compliant DC high speed circuit breaker
Product Features
By the trend of harminization of Japanese electrical facility standards with the leading international standards, new JIS standards for DC high-speed circuit breaker (HSCB) was drafted by combining the elements of JEC and IEC standards.
We offer large capacity, compact and lightweight ML type HSCB (with permanent magnetic Magnet Latch) - JIS E 2501 (H1 type) compliant model.
It has a safety feature like mechanical interlock to prevent the draw-out work while the switch is at "Close" mode. And during the circuit breaking, it has a mechanism of not releasing arc to the outside.
It complies with the latest JIS standard (JIS E 2501 -Type H1).
Large capacity: Maximum rated current 6000 A
High interruption performance: Rated short-circuit current 100 kA
Compact and lightweight: Main unit weight comparison 82% (compared with previous model)
Downsized cubicle storage: Installation area comparison 50% (compared with previous model)
Simple and highly reliable structure
- Permanent magnet holding type
- Solenoid operation type
The arcing contactless design realizes long operational life by interrupting only at the main contact.
Applications and Solutions
At the power feeding substation for DC electric railways, this product is adopted as the power feeding circuit breaker for supply or cut-off to electric trains.
Specifications
Specification example

*

Indicating two rating (4000 A and 6000 A)

Type
ML-4
ML-6
Nominal voltage
DC1500V
Rated voltage
DC1800V
Power‐frequency withstand voltage
9kV
Rated current
4000A
6000A
Breaking current settling: maximum value
12kA
18kA
Rated short-circuit current
142kAp/100kA
Interruption characteristics
H1
Inquiries about this product