News Releases 2018

Meiden establishes the world's first technology for manufacturing flexible barrier film at 30C using Meiden's pure ozone generator

Meidensha Corporation (Meiden) has established the first technology in the world for film deposition at a near-ambient temperature using 100% pure ozone. Meiden began researching this technology in May 2017 and applied for a patent in March 2018. Going forward, Meiden seeks to improve film quality by continuing a research partnership with the National Institute of Advanced Industrial Science and Technology (AIST) into technologies that use pure ozone.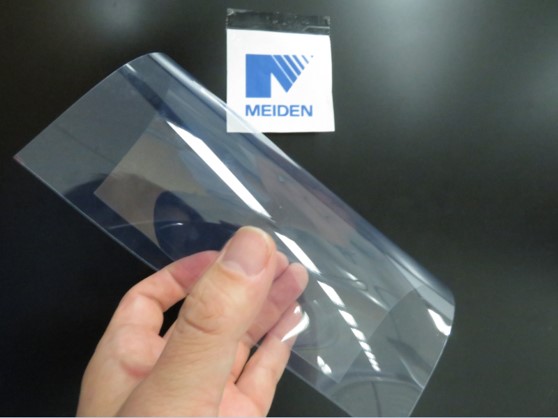 This technology was developed to serve a forecasted growth in the market for high-performance films used in fields such as flexible organic electroluminescent (EL) displays, printed electronics (PE), and flexible electronics (such as wearables). The growing field of plasma technology uses temperatures of 100-150ºC to manufacture flexible organic EL displays. With this ozone technology, film deposition is performed onto a resin substrate at 30ºC, which creates thin yet durable and flexible displays with excellent barrier properties. In addition, manufacturing processes may be abbreviated using this technology to improve film quality enhancing adhesiveness between films and to remove organic material byproducts generated during semiconductor manufacturing. Meiden's pure ozone generator is critical to this technology.

Meiden is partnering with manufacturers and scientific concerns to provide this technology. Meiden is working to expand sales of its pure ozone generators, which are essential to these manufacturing processes.
Possible applications of this technology in flexible organic EL displays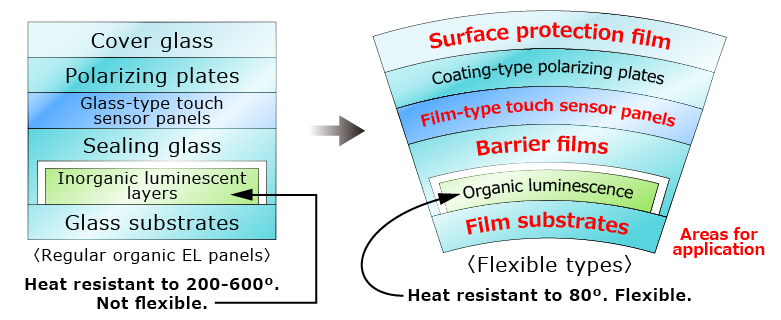 What is a pure ozone generator?
Meiden began developing a continuous pure ozone generator in 2000, which appeared on the market in 2007. These devices supply pure ozone processed gas in a safe and stable manner, and are currently sold primarily to the makers of semiconductor manufacturing equipment.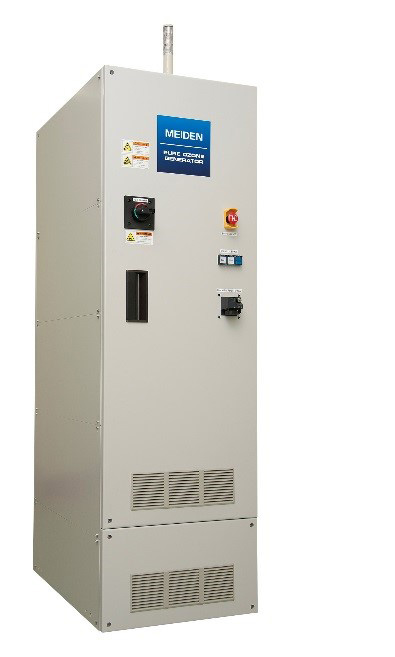 For more information about Meiden's pure ozone generator, please click
here
.
Merits of this technology
※1

Film deposition can be performed at 30ºC. Producing semiconductor film with current technology generally requires higher energy states. Because Meiden's technology uses a near-ambient temperature:
– Deposition can be performed with film and other low-temperature materials; and
– It is a green low-cost manufacturing process.

※2

Film deposition may be adjusted over thin 5 nm film to 780 nm. A high degree of precision can be expected even with ultrathin films.

※3

Changing the source gas enables deposition of aluminum oxide films and cutting-edge metal oxide films, such as high dielectric films. Switching the source gas can also be applied in multilayer film deposition.

※4

Film deposition is possible with extremely simple chamber structures (only requiring the attachment of a shower head delivery system).

※5

More powerful OH radicals can be generated using a gas adding treatment method, which can be applied in reforming prior to film deposition or in cleaning.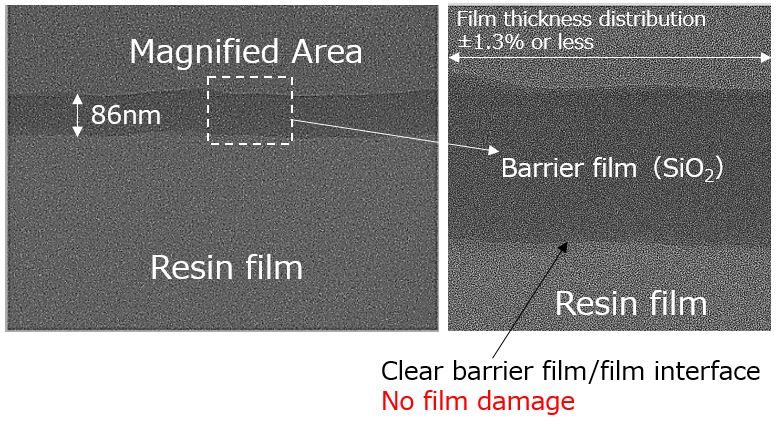 Cross-section photographs taken with a transmission electron microscope (TEM)
Technology for film deposition at near-ambient temperature with OH radicals using pure ozone
Ozone (O3) and ethylene (C2H4) are combined in a vacuum to produce hydroxyl radicals (OH radicals). Combining these OH radicals with SiC8H20O4, commonly called TEOS gas (tetraethyl orthosilicate), causes decomposition into silicon dioxide (SiO2), CO2, H2O, and O2. The O2, CO2, and H2O are vented as impurities, leaving only the SiO2 for deposition creating a high-purity SiO2 film. Meiden has already patented the method for reacting pure ozone and ethylene gas that is used in this technology.