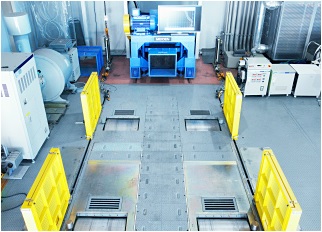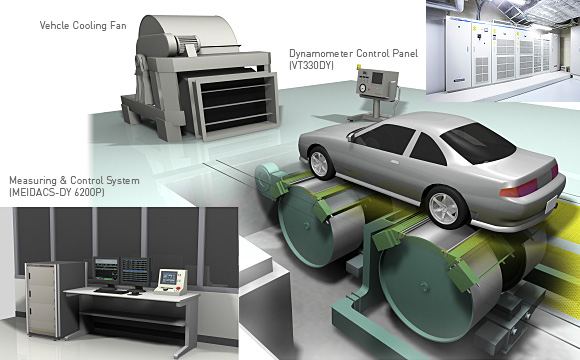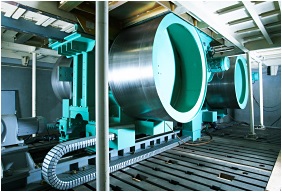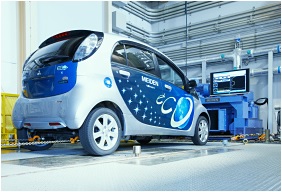 Testing Equipment
Chassis dynamometer system
Metal rollers connected to a device which emulates the vehicle inertia and the vehicle road load that the vehicle experiences on a real road
Product Features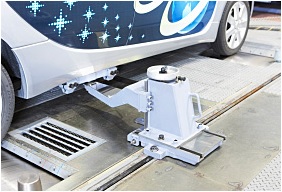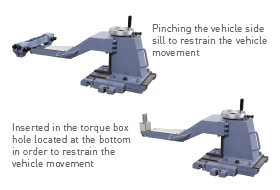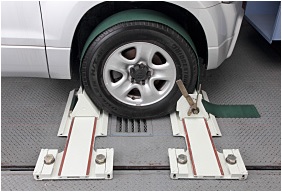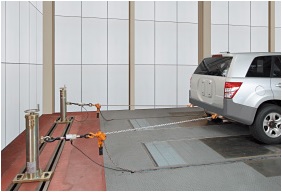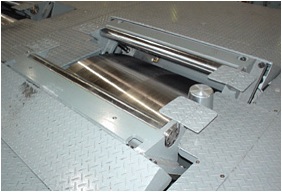 It supports tests for various vehicles including four-wheel drive vehicle, hybrid electric vehicle and electric vehicle, etc.
Any kind of environment including high temperature, low temperature, high humidity, low pressure, rain, snow can be reproduced.
Various tests including exhaust gas consumption, NVH and durability are selectable according to the applications.
Linear regression for driving force of electric inertia evaluation in JASO standard is adopted and high precision simulation of vehicle speed of front and rear wheels is realized.
Layout image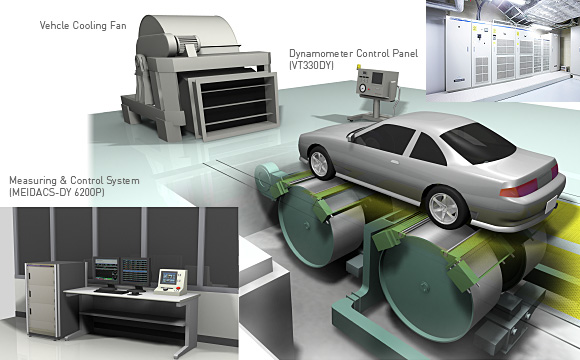 Optional item
By installing the below optional units to the Chassis Dynamometer, reproduceablity of actual road conditons is improved and it enables the wider tests.
Vehicle centering device

Centering between the roller and rolling wheels is performed by sandwiching the wheel from front and rear directions by use of air-driven cylinder. In addition, vehicle position can be corrected by rotating the top of cylinder.

Roller surface

By mounting a pad simulating a rea road surface on the roller, it can realize a road surface and friction factor similar to a real road. It can meet with the Knurling method.

Vehicle cooling fan

Cooling wind according to vehicle speed is provided. We produce the system according to customers' requests regarding rating and shapes. Electric movement is realized according to layout of the testing room

Tire cooling fan

This fan prevents tire surface overheat and the subsequent tire bursting during the driving mode. Together with the vehicle cooling fan, it can follow vehicle speed or offer the fixed wind volume operation.
Test items and other features
Fuel consumption and exhaust gas emission test

It supports the related regulations in Japan, EPA (US) and Europe.

Environmental tests

It can reproduce any kind of environmental conditions in the world including high temperature, low temperature, high humidity, low pressure, rain, snow, etc.

Noise test

Noise test in simple anechoic room and road noise test can be performed by adopting the low noise and liquid-cooled dynamometer.

Production line level check

It supports the sample tests of completed vehicle before shipment from factory.

General performance tests

With high capacity and high load rating, it can cover the full-load performance test.

Durability test

It can support the durability test for catalyzer deterioration evaluation after traveling 100,000 miles (160,934 km) .

Front-rear roll difference speed on 4WD mode is within +/- 0.1km/h.

This is equipment applicable to emission performance, noise performance and environmental testing for various 4WD complete vehicles.

Reliability of electric inertia control

By the linear regression analysis function of the driving force to evaluate the electric inertia simulation as defined by JASO Standard, it realized high reliability of electric inertia control.

Frame oil floated and roller over-hung configuration

Mechanical loss of roller bearing can be measured by load cell, and compensation of bearing mechanical loss caused by change of axle load is possible. In addition, high torque detection accuracy is realized by adopting the frame oil pressure system with less vibration resistance.

High correlativity with road data and reproducibility of load of road

With high accuracy and good repeatability load, it offers the operation without large difference with a real road in terms of exhaust gas consumption evaluation.

Various series

The optimal system configuration can be selected according to test vehicle types and its applications such as 4-wheel drive vehicle, hybrid electric vehicle and electric vehicle etc.
Inquiries about this product