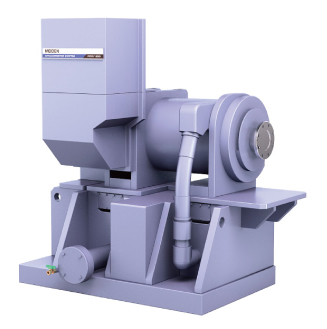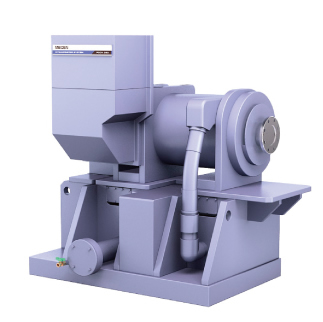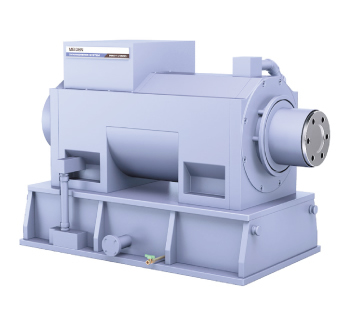 Testing Equipment
Ultra low inertia Permanent Magnet Dynamometer (PMDY)
Ultra low inertia PMDY suitable for development process of automobile
PMDY: Permanent Magnet Dynamometer
PCDY:PM dynamometers with extremely low inertia and small dynamometers, used mainly for driving
Product Features
This is a highly efficient permanent magnet (PM) type Dynamometer. By taking advantage of PM type, the cooling method is of liquid cooling type. This enabled low inertia, compact design, low noise and high response performance. By using this Dynamometer, it is possible to perform transient performance tests in the testing room.
Realized development and verification of component without using the actual vehicle
Realized low noise by adoptingt the liquid-cooling method.
Realized high response simulation
By the compact design, it realized the drastic reduction of installation space.
By adopting the PM for the rotor, it realized both high efficiency and saving energy.
Highly reliable customer services from design to aftersales service
Applications and Solutions
Since it has an inertia moment alomost similar to that of an engine, it realized the development and verification of components (engine, transmission, trans-axle, differential gear, etc.) without using the complete vehicle. It realized the high response reproduction of behavior and offers the low noise feature. By the compact design, it realized the drastic reduction of the installation space. It made available the high efficiency and high energy saving. It realized the highly reliable customer services from system design to after-sales service by drawing on our long-standing engineering resources, experiences, and track records.
Specifications
Specifications
High speed type
PCDY500

Rating
Continuous rated capacity
Absorbing: 500kW, Motoring: 500kW
Short-time rated capacity
None
Rated torque
735N·m
Base/Maximum speed
6500/10,000min-1
Inertia (J)
(単体0.12 kg·m2 (unit level)
External form (Outline)
Dimensions
W715×H995×L945mm
Center height
600mm
Weight
Approx. 1060 kg
PCDY450

Rating
Continuous rated capacity
Absorbing: 450kW, Motoring: 370kW
Short-time rated capacity
None
Rated torque
Continuous: 859 N·m
Base/Maximum speed
5000/8000min-1
Inertia (J)
0.27 kg·m2 (unit level)
External form (Outline)
Dimensions
W730×H775×L1070mm
Center height
490mm
Weight
Approx. 800 kg
PCDY330

Rating
Continuous rated capacity
Absorbing: 330kW, Motoring: 330kW
Short-time rated capacity
(30 seconds)
Rated torque
Continuous: 525 N·m/ short-time: 1050 N·m
Base/Maximum speed
6000/10,000min-1
Inertia (J)
0.12kg·m2(unit level)
External form (Outline)
Dimensions
W710×H880×L945mm
Center height
630mm
Weight
Approx. 1280kg
PCDY220

Rating
Continuous rated capacity
Absorbing: 220kW, Motoring: 220kW
Short-time rated capacity
None
Rated torque
Continuous: 382 N·m
Base/Maximum speed
5500/8000min-1
Inertia (J)
0.09 kg·m2 (unit level)
External form (Outline)
Dimensions
W450×H665×L1490mm
Center height
425mm
Weight
Approx. 900kg
PCDY150

Rating
Continuous rated capacity
Absorbing: 150/100kW, Motoring: 150/110kW
Short-time rated capacity
None
Rated torque
358N·m
Base/Maximum speed
4000/8000/9500min-1
Inertia (J)
0.07 kg·m2 (unit level)
External form (Outline)
Dimensions
W560×H885×L840mm
Center height
450mm
Weight
Approx. 510kg
PCDY115

Rating
Continuous rated capacity
Absorbing: 115kW, Motoring: 115kW
Short-time rated capacity
None
Rated torque
200N·m
Base/Maximum speed
5500/8000min-1
Inertia (J)
0.05 kg·m2 (unit level)
External form (Outline)
Dimensions
W790×H780×L800mm
Center height
500mm
Weight
Approx. 700 kg
Medium voltage type
PCDY600

Rating
Continuous rated capacity
Absorbing: 600kW, Motoring: 600kW
Short-time rated capacity
None
Rated torque
1145N·m
Base/Maximum speed
5000/8000min-1
Inertia (J)
0.23 kg·m2 (unit level)
External form (Outline)
Dimensions
W1325×H1050×L1030mm
Center height
700mm
Weight
Approx. 3200 kg
PMDY600

Rating
Continuous rated capacity
Absorbing: 600kW, Motoring: 550kW
Short-time rated capacity
None
Rated torque
4982N·m
Base/Maximum speed
1150/8000min-1
Inertia (J)
2.0 kg·m2 (unit level)
External form (Outline)
Dimensions
W1580×H1400×L1870mm
Center height
800mm
Weight
Approx. 6200 kg
Low speed type
PMDY LV500

Rating
Continuous rated capacity
Absorbing: 500/400kW, Motoring: 420/336kW
Short-time rated capacity
None
Rated torque
Continuous: 3979 N·m
Base/Maximum speed
1200/2500/3000min-1
Inertia (J)
1.51 kg·m2 (unit)
External form (Outline)
Dimensions
W680×H920×L1280mm
Center height
550mm
Weight
Approx. 1700 kg
PMDY LV220

Rating
Continuous rated capacity
Absorbing: 220/176kW, Motoring: 200/160kW
Short-time rated capacity
143% (1 minute)
Rated torque
Continuous: 2100N·m/Short-time: 3000N·m
Base/Maximum speed
1000/2500/3000min-1
Inertia (J)
0.97 kg·m2 (unit level)
External form (Outline)
Dimensions
W475×H705×L1214mm
Center height
300mm
Weight
Approx. 1100 kg
Inquiries about this product