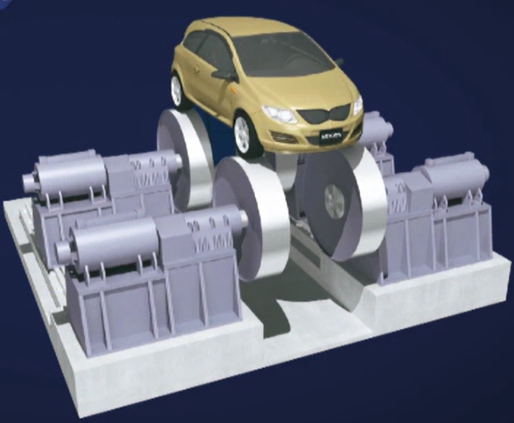 Testing Equipment
Meiden Virtual & Real Dynamometer System
Vehicle evaluation system that can reproduce the operation of a virtual vehicle
Product Features
It is a system in which the same load as when the vehicle is driven on an actual road can be applied to the component under test by configuring the virtual vehicle components other than the compoent under test on the PC. The period of vehicle development for the customer can be reduced drastically by realizing the virtual vehicle test. This was made possible by adopting an ultra low inertia dynamometer and improving the simulation functions.
Capable of reproducing the actual road surface and virtual vehicle operation
By realizing more efficient tests, we made available the drastic reduction of vehicle development time.
Reduction of the number of beta test units at the customer
System lineups
Meiden Virtual & Real Dynamometer System for an engine bench

Parts from a torque converter (clutch) to tires of the vehicle are simulated on an engine bench. A dynamic test of the engine can be implemented by applying a load to the engine by reproducing the load torque requested from the vehicle model using a dynamometer.

Meiden Virtual & Real Dynamometer System for a drivetrain

The characteristics of engine movements and the actual road surface are simulated on a drivetrain. The powertrain can be evaluated without an engine.

Meiden Virtual & Real Dynamometer System for a chassis dynamometer

It is a system that can reproduce the actual road surface and operation by the virtual vehicle on a chassis dynamometer. Our system realized the improvements (driveability and engine performance), the investigation tool on the development of fuel efficiency and high accuracy measurement of rolling resistance.
Inquiries about this product