Railway system

KL Monorail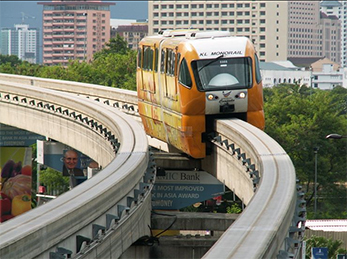 Introduction; KL Monorail
Traction Substation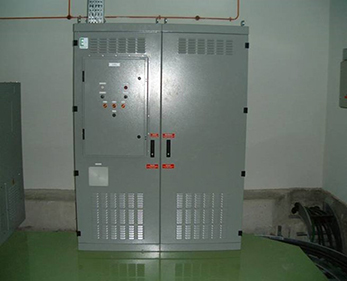 AARU ( RE=GEN SYSTEM)
The first Monorail system in Malaysia was the Straddle Type , double track system. Meiden Malaysia was awarded as Power Supply and Distribution System main contractor with Design, Manufacture, Supply, Delivery, Installation, Testing and Commissioning contract. The system serves 11 stations located along the southeast and northeast regions of Kuala Lumpur passing through the most busiest business and commercial district of town. The power supply system consists of five 5 indoor Traction Power Substations (TPSS) to support the Mainline and Depot, and the complete DC 750V traction system are provided. Meiden Malaysia has also participated to design, manufacture , install , test and commissioning of 1st generation of Automated Fair Collection system tied up with OMRON, the pioneer of AFC.
Scope of Work
The traction power supply system was initially designed to support a fleet of 2 car trains in year 2000. The KL Monorail line is operating with a high level of safety and reliable traction system, with all of the TPSS connected in parallel on the 750V DC through the power rail system to improves the voltage regulation of the system and provides alternate feeding paths to the vehicles, spreads the load more evenly among substations and increase the system receptivity to regeneration. The work commenced in year 2000 and completed successfully in year 2003. The major scope of work is listed as follows:
(1)

11kV Air Insulated Switchgear

(2)

2000kW Rectifier Transformer

(3)

2200kVA Rectifier

(4)

DC 750V Switchgear

(5)

Automatic Assured Receptivity Unit (AARU)

(6)

Service Transformer

(7)

Battery & Charger

(8)

Generator Unit

(9)

Complete set of AFC(Automated Fair Collection System – 1st Generation)
In year 2012, KL Monorail Fleet Expansion project was carried out due to the increased passenger using KL Monorail. Meiden Malaysia was responsible to upgrade the power supply system so that it could support a fleet of 4 car trains.