Products for railway systems

Pantograph Monitoring System

For line doing mutual direct operation between the different railway companies, it detects any pantograph abnormalities. By the camera installed near the structure (like beam, etc.) near the operating boundary of each railway company, the photograph of pantagraph on the crossing train is taken each time automatically. The photograph is immediately sent to a maintenance office PC through the mobile phone network, and the monitoring operator checks for abnormalities in pan head, contact slip and horn of the pantograph by viewing the received photograph.
Features
High resolution image taken by HD camera
It is possible to detect small abnormalities occurring in the pan head and contact slip.
One-shot image by detecting pantograph through sensor. No wasteful photograph.
Pantograph can be monitored in almost real time manner as the photograph image is passed instantly through the mobile phone network (WiMax line in Japan is recommended).
It can distribute multiple offices and mainteance hub
The photographed images can be browsed from multple designated offices or maintenance hub.
Pantograph monitoring system outline drawing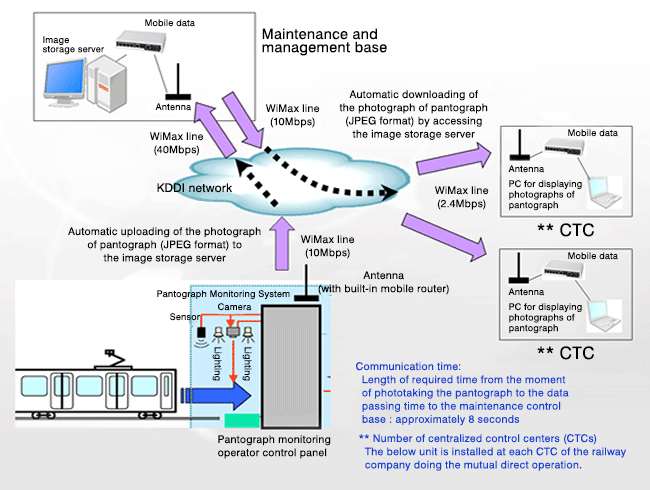 Enquiries about this product

[Department Line: 2]