Truck Type AGV (3MC Series/2ACB Series/ACBM All-directional Type Series)

Reliable and Safe Long-Distance Transportation in an Automotive Component Factory (for Cylinder Head Metal Casting Process)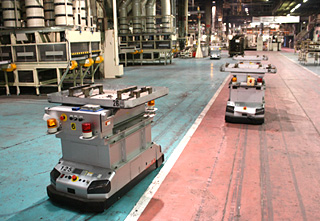 Merits of introducing our product(s)

Metal casting of a cylinder head with a complicated shape takes various steps for manufacturing: from the core formation for the sand mold and down to the cleaning process of of the completed product. It takes a long-distance transportation. As more production lines were added, we introduced 6 standard type automatic guided vehicles (AGVs) with custormized lift-up type transfer unit. Also we introduced a total control system that automatically manages these AGVs.
This system package can realize a complete unmanned operation of transporation-related works which previously invollved several people and includes such work as changing the carrying items on AGV.
We can put necessary AGVs in place according to the required production capacity.
Background of Introduction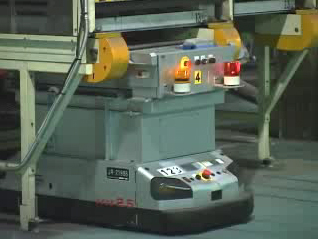 It takes a very long distance from the aluminum casting machine process to the finishing process.
The factory space is limited and it does no allow the installation of the systems like conveyor.
AGV Navi.
Please refer to "AGV Navi" (special website for AGV) for the details of our AGV offerings.

Products and services in use for this case study