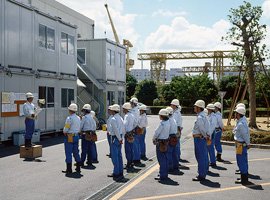 Safety

Hands-on safety experience Training

Our construction department provides hands-on safety education using unique equipment for hands-on experience. The safety education is designed to give coaching and instruction not only to our employees, but to all the people involved in our on-site work. This initial hands-on experience of safety helps us remain aware that "safety comes first before anything else" and "good health is a priceless asset" so that we continue to improve the level of safety and health management for all our on-site work. We also focus on safety education not only in Japan but also our overseas locations.
Features
We promote and provide safety training through "hands-on experiences"
By loading main safety experience training apparatus into truck carriable mobile container, we travel to our project sites in Japan to provide on-site training.
We provide safety training not only in Japan but also in our servicing hubs in Asia.
Hands-on safety experience training
Electric shock
Electric shock is one of most essencial program of our hands-on safety training. This program is for all workers working for our projects. We have developed / manufactured unique equipment to provide safe-level "hands-on electric shock." This equipment is designed to provide the real lingering memory (not just class room theory) to every experienced workers.
The trainee place both hands directly on the low live electric wire and monitor Voltage/Ampacity indicator showing the electric current and voltage running through trainee's body.
Each trainee will feel tingling in their hands from very less amount of voltage or current, and forsee the danger of an electric shock. Also this program is designed to enlighten trainee to understand electric shock is most in danger during sweating condition in summer season.
Field experience of safety (Visual experience of Three-phase short circuiting demonstration)
Providing visual experience of Three-phase short circuiting deemonstration has been very difficult to demonstrate by planning and financial matter to prepair the specimen. However, we have included in the annual training program to fulfil strong demand from our engineers working in the project fields.
We conduct this test once a year. The three-phase short circuit demonstration is performed at High Power Laboratory at Meidensha Numazu Works. Using short-circuit power generating device, demonstration shows large scale experiment of potencial fatal damages in visual matter to attending people. This visual demonstration experience leave very strong impact of electric power hazard to attending members who are involved in the electric industry at project sites.
A truck carrying "Mobile Container" with safety experience equipment
Meidensha introduces the Safety hands-on experience equipmentsy during Basic safety policy orientation and at Site representative training. However introduction had been given to the limited people. We believe it is vital to be introduce the Hands-on safety experience program to all of our related workers working in our corporate project sites. Therefore we have manufactured and introduced the mobile container. This contains safety experience apparatus enable to perform safety trainings against whole workers working at project site at once. We are planning to perform various safety training programs by visiting the project sites across Japan.
With major hands-on safety experience apparatus loaded in mobile container, we travel across Japan to provide on-site trainings. The following items are the major apparatus for hands-on safety experience:
Apparatus for hands-on experience of a low-level electric shock
Apparatus for electric wire burnout demonstration
Hanging experience by safety harness
Fall accident impact experience
Hands-on experience of a bolt drop impact
A child's eye sight experience
Pointing and calling device
Drunken driving, etc.
Safety training programs in ASEAN Region
In the purpose to raise safety awareness among our fiield engineers of Meidensha group corporates in ASEAN Region, we are introducing Japanese Occupation Health and Safety (OSH) programs for the on-site site-managements. We conduct OSH programs for the uniformed OSH awareness and levelling of safety bar.
Our initiatives in Singapore
Singapore, where has a manufacturing and sales hub, is an early adopter of OHSAS 18001, an Occupation Health and Safety Assessment Series for health and safety management system and There is active under OHS programs. ASEAN nations have each OHS standards and working under them. While Meiden Group complies with the relevant standards and regualtions on OHS,we make efforts to maintain the same level of safety awareness as a global corporation across Japan and these countries.
Safety management method using: "KYK" (Hazard-Prediction Activity)method in Japan and promotion of "OHSAS" in Singapore
Learning the the significance of safety activities through the hands-on safety training programs
Improvement in awareness on safety through the effective training programs combining the classroom lectures and hands-on safety training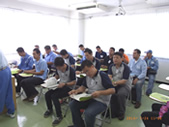 Scene of classroom lecture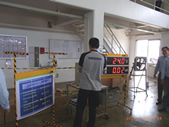 Scene of hands-on safety experience of low level electric shock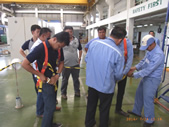 Scene of hands-on safety experience: Using actual safety harness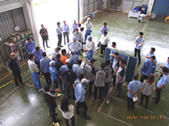 Scene of Visual demostration of electric wire burnout