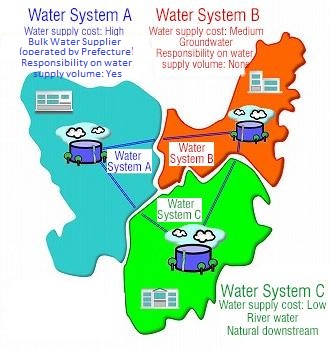 Water purification systems

Automated Water Water Supply Control System (Chaos Logic-based Demand Prediction Method)

For conventional water supply and distribution operation, experienced operators, who are familiar with facilities, predict daily demand based on date and weather information, operating entire facilities. However, further efficient water supply and distribution operation and facility maintenance and management have been recently required due to mass retirement of experienced operators and mergers of municipalities. Our water supply and distribution automation system realizes reasonable and stable water supply operation by effectively utilizing each water systems with different configuration. This is done by using the chaos-logic based water demand prediction method and predict and control the water level of the distribution reservoir.
Features
Since this is automatic control operation, there is no need of Inputting of date and weather, etc. Thus, it can realize the effective facility maintenance and management.
Based on the predicted water supply demand volume, it stabilizes peak demand wave by using the buffer effect of the water reservoir. By stabilizing the every process of water intake, water feeding, water purification and water supply, it can produce the peak-shaving of energy and the power consumption.
It is possible to incorporate this automation system to the existing water systems by connecting through Ethernet or serial cable connection. In addition, linking with the existing monitoring and control systems is also possible.
Water supply and distribution automation system
Our water supply and distribution automation system is a control method in which fluctuation of water distribution volume is absorbed as fluctuation of water level at the water reservoir. Future water level of water reservoir is predicted by using the chaos logic-based demand prediction method and water supply amount is automatically controlled to prevent deviation of water level from preset level (upper and lower limit.) With this, water purification volume can be stabilized. If capacity of the water reservoir is large, water purification level can be controlled at the constant level. On the other hand, if the water reservoir capacity is limited, the water purification volume can be leveled within the limit of capacity.

Application example
For facilities in which water is taken from in-house water supply and water from the prefecture water works.
It was difficult to control the water supply volume only by using in-house water supply such as well water; etc. However, water distribution volume can be predicted and water level of the water reservoir can be controlled by using the "chaos logic-based demand prediction method." Therefore, water flow level control suppressing fluctuation of in-house water supply while keeping the water receiving volume from prefecture waterworks, etc. constant can be realized.