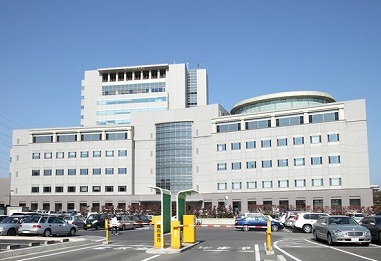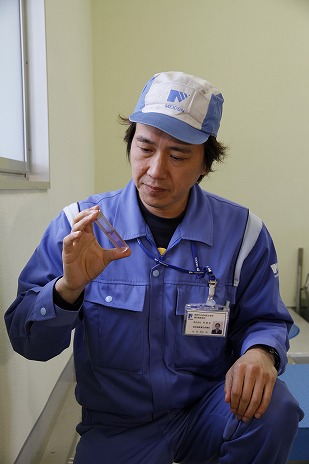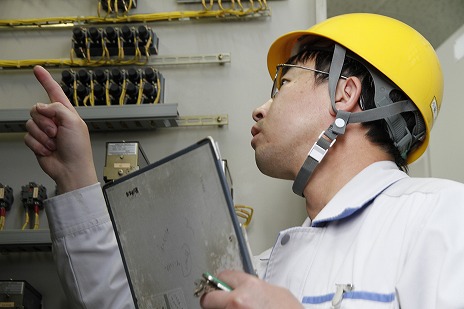 Contract facility management services for water utility business

Meiden Outsourcing Service for Water Utility Operations

Water utility in Japan has various challenges such as "better operational management" , "passing down the skills and techniques" , etc. to ensure sustainable supply of safe and secure water. We promise the contract customers (water utility bureau) and the local residents receiving the water that we will provide the "secure" water in a "stable" and "sustainable" manner through our outrsourcing service of water utility operations including the facility management. In doing this, we draw on more than 110 years of experiences in the social infrastructure building and our track records of building water treatment facilities (mostly electrical facilities) across Japan. In addition, after the deregulation, our company became a first private-sector company in Japan who made a outsourcing contract with a local authority (water utility bureau) to perform the water utility operations.
Features
As being a long-standing supplier relating to the waste water treatment plant (WWTP) for Japanese water utility field, our contract facility management service is very unique. Drawing on our more than 30 years experiences and track records of contract WWTP operation and mangement and our know-hows for general electrical facilities over 110 years, we became a trusted supplier (partner) for the WWTP owner (water bureau of local government.). After the deregulation in Japan, our company was a first company in Japan to provide the outsourcing service of water utility operations to local government. Our such experiences can be utilized every matters relating to the water ulitility operations.
Our servicing range comes this far.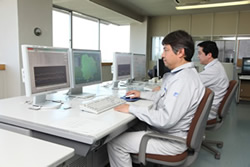 Operation control
We operate facilities on behalf of customers. As we have to make water treatment according to the given day's quality of the raw water and operate each equipment according to the water distribution status, we manage the operation allocating the needed staff members taking into account such matters affecting the working shifts such as working or closing days of the local government and for the operation requiring 24/7/365 service, etc.
Drafting the best WWTP operation plan
Execution of smooth operation control and its report
Drafting and Updating of manual for regular operation and for emergency situation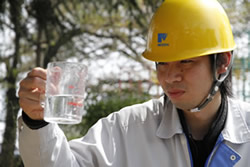 Water quality inspection
To produce water meeting water quality standards, safe and secure water is supplied by inspecting and measuring water quality in the clean water process according to change of water quality of raw water. "Raw water quality inspection", "Water quality inspection during water treatment process", "daily water quality inspection", etc.
Drafting water quality inspection plan
Secure daily water quality inspection and result analysis
Inspect water quality regularly and organize or analyze the results
Draft and update water quality control manual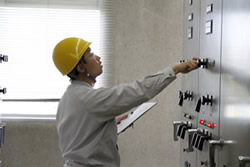 Maintenance control
Maintenance control consists of daily patrol visual inspection which calls for the good senses of the operator to find any critical change and regular inspection utilizing testing instruments, etc.
This is a necessary operation for extending life of facilities and preventing accidents.
Drafting a maintenance work education plan
Patrol inspection and result analysis (preventive maintenance)
High quality regular inspection and result analysis (preventive maintenance)
Minor repair (corrective maintenance)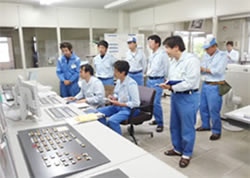 Risk management
We will work on to establish a strong system, draft and update full range of manuals and provide education and training to operators. In order to supply water stably at all times. We promise customers to become their trusted service provider (best partner) by signing the contract on the wide-area suppors and agreement for the disaster events.
Organization chart in case of emergencies
Education and training
Inside facility security guard to beef up crime prevention
Repair against the sudden failure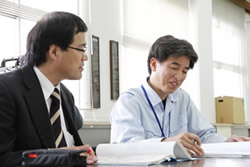 Purchase and health management
We order, receive and inspect chemicals and fuel and manage payment of power utility bill and communication expenses on behalf of customers.
Purchase control on power, chemicals and fuel , etc.
Cleaning of facilities
Management of greenery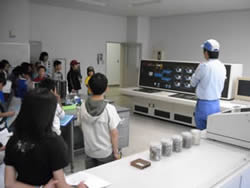 Community contribution
We feel that social contributions to our communty around our hubs in Japan are our important jobs. This includes such things as active recruiting of local people, factory inspection programs, etc. We promote programs for our communities. .
Easy-to-understand briefing for visitors
Active cooperation for training operators from abroad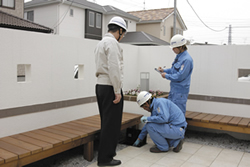 Management of feed water devices
We do feed water devices management. This includes consumer's inquiry, acceptance of water service subscription, water service installation work-related design check, post-installation work check, collection of water service subscription charge.
Simple Lesson on how water busines BPO works
In studying the feasibility of business process outsourcing (BPO) of water utility operations, it is very important to grasp the jobs of operations by the local government and what are the objectives for BPO. By defininig the BPO scope and purpose, you could identify the required quality level of BPO service provider. Then the selection method of the BPO service provider and transition work required until the commencement of BPO service.
Steps for BPO contract
Feasibility study (preparation) for BPO (BPO job duty scope and its purposes)
Planning for BPO Migration (method for service provider selection)
BPO contract
Turn-over of business operations
Start of BPO service
*

Here are the detailed replies to"FAQs".
Q. What types of business process outsourceing (BPO) do you provide?
Partial business consignment (Consignment where waterworks law is not applicable)
Outline

This is a business consignment that has been conventionally carried out under responsibility of the water supplier.
Basically, a specification order is adopted. However, in recent years, "collective orders" in which interrelated works are collected and "performance orders" in which requirement of work is set as performance warranty have been used as methods for utilizing the consignee's inventive ideas.

Scope of responsibility

The responsibilities under the Water Utility Law shall rest on Wator Utility Operator (Consignor Client) and consignee shall have the responsibilities under the BPO contract (under private law).

Appointment of technical administrator of waterworks

Consignor client side: Necessary, Consignee side: Unnecessary
Third-party BPO (Water Utility Laws: Statutory consignment)
Outline

This type of consignment was established by the revised waterworks law (article 24 (3)) enforced in April 2002.
This is a system in which technical works are consigned to a third party as one of the methods for enhancing the water utility control system.

Responsibility range

Third party BPO defined in the Water Utility Law is a technical BPO. Under the scope of the BPO contract works, the terms and conditions of the Water Utility Law shall be applicable to the consignee and such provisions will not be applicable to the consignee.

Arrangement of technical administrator of waterworks

Consignor side: Necessary or unnecessary, Consignee: Necessary
Q. What types of order methods are available?

Contract determination methods
Outline
Merits
Demerits
Open competitive bidding

Bidding in which people who satisfy certain participation requirements can participate in the competition freely.
The person who participates in competition and bids at the minimum price is determined as the successful bidder.

Fairness and transparency of bidding are high and monitoring by third party is easy.
It is possible to select a vendor with emphasis on cost reduction by maintaining high competitiveness.

It is difficult to eliminate bad and disqualified vendors.
A person who is not capable of executing business may make a successful bid and quality of work may be degraded.
Damping caused by excessive competition may occur.

Selective bidding

The procuring service selects specified persons who are considered as applicable with conditions including technical strength, financial power and credit and the person who makes a bid at the minimum price is determined as the successful bidder.

Reliable contractors are selected.
Certain competitiveness is ensured.

Number of competition participants is limited, thus competitiveness becomes low compared to open competitive bidding.
Participants are appointed regardless of intention to participate in competition, thus the number of persons who reject bidding increases.

Over-all assessment bidding system


(Open competitive bidding and selective bidding)

The person whose conditions including technical strength were the best among people who tendered a bid within the predetermined price range is determined as the successful bidder.

The person who made the bid at the minimum price does not always make a successful bid, thus sound vendors having technical power can be developed based on this system.
Discussion is held by an unbiased evaluation committee, thus bad and disqualified vendors can be eliminated.

Selecting and securing people of experience or academic standing are required.
Selection capability of procuring service is required when evaluating technical power of participants.
Procedures for making a bid and concluding agreement are complicated, thus it may take time to complete the contract.

Proposal system


(free contract)

Applicants are selected based on the technical proposal and the person whose proposal had the highest rating is determined as the person who has the highest refusal right.

Consignee can be selected by putting emphasis on contents of proposal (technical power, etc.).
Flexible order range is possible because inventive ideas in the technical proposal can be adopted as addition of specification.

Selection capability of procuring service is required when evaluating technical power of participants.
Cost for preparing the proposal is charged to participants, thus certain financial ability is required and the number of participants may be limited.
Products and technologies that are useful for operation and maintenance site.
This is an example of products of Meidensha Corporation that are useful on site.
We have developed products that are convenient for operation and maintenance work with our own viewpoint.
Automatic water sampling device
Twenty liters of pure water is collected once a day at level 4 and level 3 facilities according to "measures policy for cryptosporidium in water utility". This is the device used for storing samples obtained from water injected into the plastic tank or collected water for 14 or more days.
Collecting 20 liters of water in the plastic container every day at the predetermined time.
A set of 8 tanks is used and unit is replaced once a week.
Checking operation, grasping integrated flow rate and emission of alarm for water leak are performed with the installed monitoring terminal (Web monitoring).
Surrounding situation can be checked with the camera equipped with the mobile camera platform.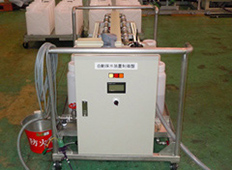 External appearance of device
External appearance of device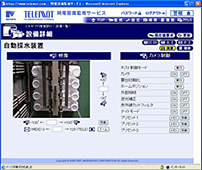 Monitoring screen (image)
Monitoring system for solar power (stand-alone power source)
This system allows the Web monitoring and measurement by installing a package consisting of stand-alone power source - "solar power unit", measuring devices and wireless communication unit. This is for a difficult-to-Web-monitor place due to no power source available such as a water reservoir in remote mountainous area.
Stand-alone power supply system

Constructing the monitoring system of facility information (water level, flow rate, turbidity, temperature and opening, etc.) by using natural energy (sunlight)

Minimum remote monitoring device

Remote terminal unit data could be browsed through minimun IT gears such as PC, mobile phone and iPad, etc.

Equipped with multi-functions

Streaming of video images through the monitoring camera
Installation example
Installing solar power generation panel and communication device in the water source area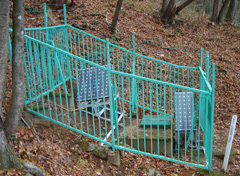 Example of installation in the water source area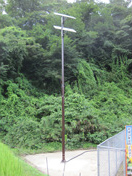 Example of installation of the water reservoir
Video taken by the monitoring camera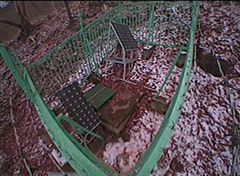 Beginning of winter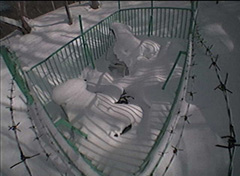 Midwinter
Appearance of package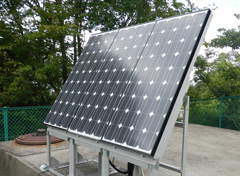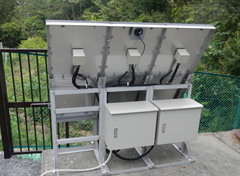 AQUA SMART CLOUD
Our cloud computing service is the SaaS type* one-stop service for waterworks.
We streamline customers' work through subcontracting of system operation, operation and maintenance and know-how cultivated by subcontracting of comprehensive water service as well as monitoring control technique and remote monitoring service that we have provided.