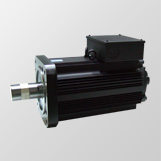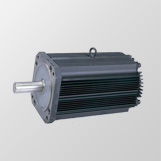 High performance and high efficiency PM motor

PM Servo Motor

We offer the series of PM servo motor upto the world's largest class of 400 kW.
It features high power rate, high response, and high output.
Product Features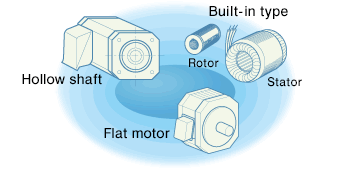 Efficiency was drastically improved by reducing the heat loss of the main body of the electric motor. In addition, it demonstrates an excellent energy saving effect. This was made possible by converting the oil hydraulic pump doing the continuous operation into motorized oil hydraulic servo.
Further, not only do we provide the standard series but we also offer custom made model to meet customers' needs. We could handle unique shapes such as a thin type, a hollow shaft type, and a built-in type.
Three series of "high response (R series)," "high torque (T series)," and "general purpose (S series)" are provided to meet the customer's needs and the mechanical characteristics. The maximum torque can be selected from 4 types of 150%, 200%, 250%, and 300%.
Various types and various optional designs of the structure of the motor are available. We provide the optimal product to nicely fit with the customer's machine design.
Implementation of energy saving and high efficiency of the oil hydraulic servo system
Compact size, high power rate, high response
Series of various capacities
Customizable
Applications and Solutions
It is widely adopted to motorize oil hydraulic equipment.
For Active vibration control system

It is a system that can buffer seismic forces to reduce building tremors from earthquake or strong wind by controlling the oscillating body installed on the roof of the building. A low inertia PM motor is applied as a drive unit for such system. Compared with the induction motor with same output, a low intertia PM motor could be made in a compact design and it is ideal as it could be put into the limited installation space of the building rooftop.

For injection molding machine

A servo motor has been used for this application which requires high response and high torque, with a power rate equivalent to that of oil hydraulic equipment. The gearless model is also possible.

For press machine

Amid the rising needs for energy saving, a large capacity servo motor has been applied replacing the hydraulic motor.
Specifications
Name of series
Motor output

(kW)

R series

(high response)

3.7-75
T series

(high torque)

45-400
S series

(general purpose)

3.7-400
For the specifications not covered in this table, please feel free to contact us by filling this Internet inquiry form.
What is a PM motor
The PM motor is a permanent magnet type synchronous motor that does not require any DC excitation. The rotor has the same structure as a cage type induction motor, and it has a built-in magnet to exhibit the performance of a synchronous motor.
Because it can be started with commercial electric power and operated by synchronizing the frequency, highly accurate speed control can be easily performed without feedback control such as encoding.
Quick reference table
This is a quick reference table showing the ranges of each series motor voltage and capacity . Just one look, you could see our offerings.
PM motor

Category
Voltage
Output

(kw)

200 V / 400 V Series
200 V / 400 V Series
200 V / 400 V Series
200 V / 400 V Series
Inquiries about this product