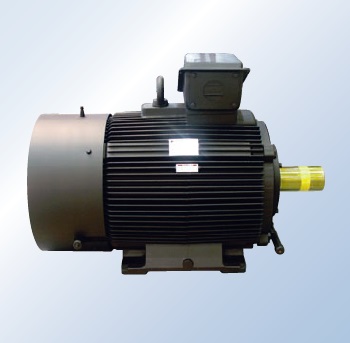 High performance and high efficiency PM motor

Energy Saving PM Motor and Sensor- Less PM Motor

We realized the reduction of the motor loss and improvement of the power factor. It can reduce your running cost drastically.
Product Features
The motor frame number is decreased by 2 to 4 frame sizes compared to the induction motor, and it could contribute the compact and leightweight design of the main machines. Further, operation without a speed sensor is possible by combining with our inverter "VT240S series".
Energy saving
Compact and lightweight design
Sensorless drive
Specifications
Output (kW)
11-350
11-400
Rotation speed(min-1)
1150
1450
1750
voltage
200V series (maximum 75 kW), 400 series (maximum 400 kW)
Protection classes
IP44 and other protections. Please contact for further details.
Please feel free to contact us for the specifications not covered in this table by using the contact form.
What is PM motor
The PM motor is a permanent magnet type synchronous motor that does not require any DC excitation. The rotor has the same structure as a cage type induction motor, and it has a built-in magnet to exhibit the performance of a synchronous motor. Because it can be started with commercial electric power and operated by synchronizing the frequency, highly accurate speed control can be easily performed without feedback control such as encoding.
Quick reference table
PM motor

Category
voltage
Output(kw)
200V/
400V Series
200V/
400V Series
200V/
400V Series
200V /
400V Series
This is a quick reference table showing the ranges of each series motor voltage and capacity. Just one look, you could see our offerings.
Inquiries about this product