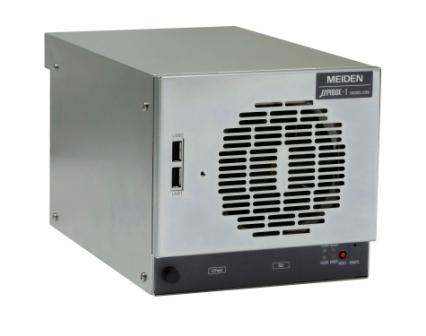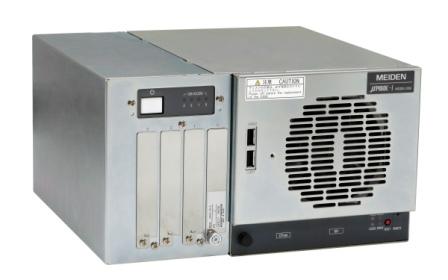 Industrial controllers

Industrial Controller UA045 Type

Compact industrial controller that is most suitable for built-in unit application
Product Features
Most suitable for built-in unit application by its compact size: width 160 mm, height 148 mm, and depth 250 mm (diskless model). Excellent scalability by using the old and new standard boards: the PCI bus and the PCI Express bus (x 8).
It realized 24/7 running high reliability and easy user interface like PC. A maximum of 4 HDD drives or 4 SSD drives can be installed by adding a modular bay. Additional hard disk drive can be also installed by adding a modular bay to fit the application. (First released in February 2013)
Various extension modules can be used by installing one PCI slot (short size) and two PCI Express slots (x 8) (short size)
Core i7/2.53 GHz installed (Corei7 is a registered trademark of Intel Corp. in the US.)
It can install a large capacity memory: maximum total 8 GB (4GB x 2 memory cards)
UL standards compliant
VCCI/FCC standards compliant
It can be applied for a wide voltage range.
More tough design like noise resistance
Overall cooling by a front-face long-life cooling fan
SSD installed model complies with the vibration impact test standard: JIS E4031 for railroad vehicle.
RAS function comes as standard.

Applications and Solutions
Applied equipment example: Line external appearance inspection device
The image data can be captured from various cameras by installing an image process board in the PCI Express bus (x 8).
COM and general-purpose DI/DO are used in the camera control.
The inspection data are saved in hard disks of maximum 2 TB (500 GB x 4 disks).
It can make 24/7 continuous operation.
Applied system example: Overhead catenary system (OCS) inspection system
Application to an onboard computer for the Overhead catenary system (OCS) inspection system.
This controller manages the capturing process of inspection images, data saving of captured images, and lighting control
It complies with the relevant railway standard and has the on-board vibration tolerance.
Inquiries about this product