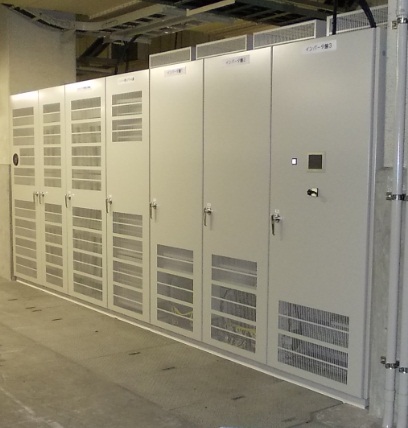 Regenerative power recovery system

Traction Inverter with IGBT Power Modules

Traction inverter with IGBT power modules (PWM) for regenerative power
Product Features
This inverter prevents the loss of regenerative braking by supplying regeneration energy (generated while braking the trains) for the station building power supply, etc. This product contributes to energy saving and reduction of environmental burden through such effective use of energy.
As the successor to the conventional thyristor type traction inverter, we commercialized the traction inverter with IGBT power modules (PWM control method). It reduces occurrence of harmonics with PWM control using IGBT power modules.
High speed response within 1 ms even without cyclic currents
It realized the near zero occurrence of harmonics and makes fine sine wave output by using PWM control through high-speed switching.
No need for external harmonic filter
Product line-ups with DC 1500 V - 1000 kW, DC 750 V - 500/1000 kW
Applications and Solutions
In case of a company having in-house power distribution network system after stepping down the power at the power-receiving substation or in case where the regenerative energy could be used for station distribution substaion located near the traction substation, the use of traction inverter with IGBT power modules is effective as a resource recovery by converting the regenerative energy to AC for such use.
Specifications
| | |
| --- | --- |
| Rated voltage | DC750V/1500V |
| Rated capacity | 500-1000kW |
| Overload Duty | 100% continuous, 300% for 1 min. |
| Cooling method | Forced air cooling |
Enquiries about this product

[Department Line: 2]