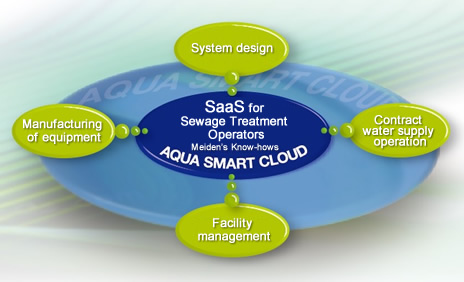 Cloud computing services

Cloud Computing Service for Sewage Treatment Operators

Our cloud computing service for sewage treatment operators is the SaaS type (*) one-stop service for sewage treatment operators.
We streamline the customers operations Our service will streamline customers' sewage treatment operations. This was made possible through our remote control technologies, remote monitoring services, and our expertise learned from the experiences on water supply system operations, contract facility management services.
* SaaS(Software as a Service): A business model in which licensed software is used via Internet
Features
It is possible to make the the system introduction gradually from one on-site terminal unit.
Through the browser, you could get many jobs (monitoring, etc.) done and it enables you to find out the environmental change at the early stage.
Our service lineup includes wide area monitoring and asset management.
You can select from the necessary option services only. It allows you to build the business-related IT system at low cost .
It secures the customers' business continuity by firmly secure the corporate data by the disaster recovery configuration.
Service
We provide the one-stop service of various services focusing on the wide area facility monitoring including live image monitoring, facility management, water pipeline management, etc.
We are going to add other services to meet the customers' needs as needed.
Data-linking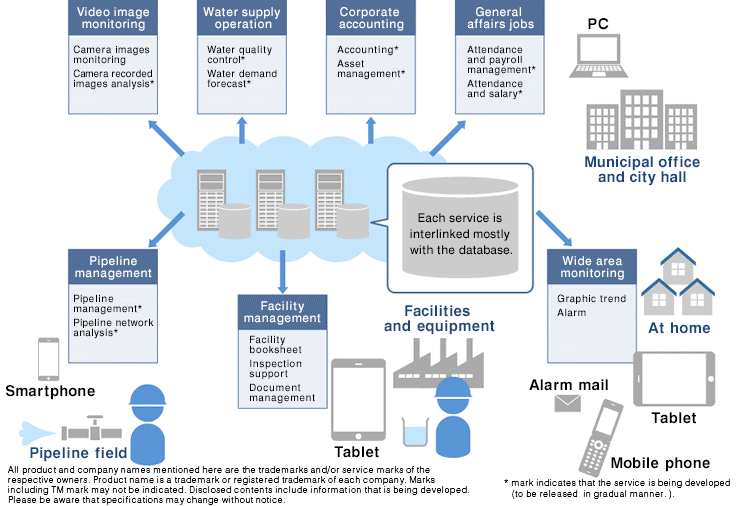 System configuration
Measurement data is collected at the data center via on-site communication terminal.
Customer can use measurement data by accessing the data center from a Web-ready PC or smart device.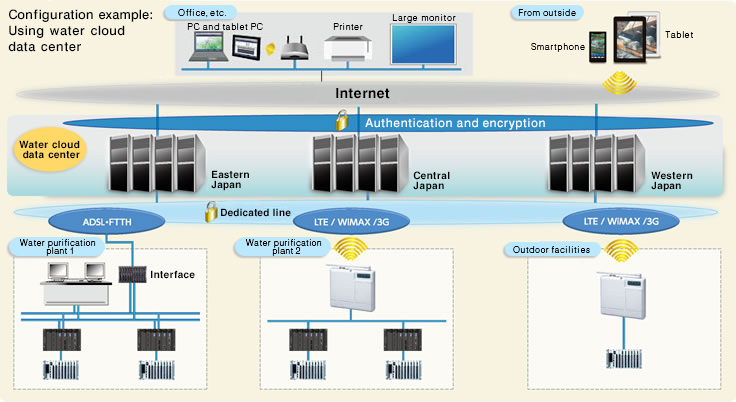 Appliaction example
Service linkage between wide area monitoring service and video images monitoring service
Double check can be performed by checking the water quality with the measurement value before discharging treated water and visually checking water quality after discharging treated water. With these services, we can contribute to maintenance of environment along the river.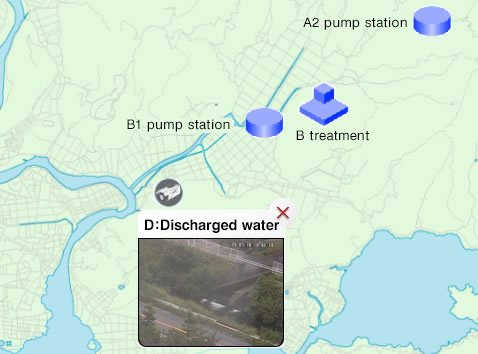 Inspection by the facility equipment management service
Inspection as a part of the facility management service by the conventional inspection using papers, it was necessary to bring the inspection sheet, past inspection results, camera and manual, etc. In the inspection function of facility management service, it is possible to perform inspection by referring a tablet (smartphone) only. The past inspection results and manual can be checked at site easily using such devices. thus it leads to the streamlining of inspection work.
In addition, if there is an abnormality, the update of the on-site situation can be easily shared by indicating the defective point as shown in this photo taken there. Thus, it is possible to troubleshoot quickly.