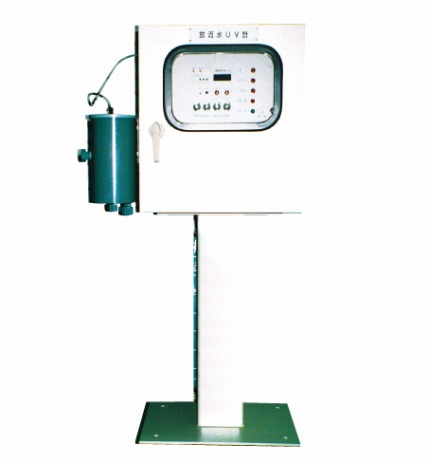 Water quality measurement equipment

Organic pollutant monitor (UV meter)

This monitor enables continuous measurement of organic pollutant without measuring delay.
Product Features
This measuring instrument is a continuous type organic contaminants moniter using the ultra-violet (UV) absorption method. UV absorption is optical measurement that does not require chemicals and heating, unlike measurements of conventional organic contamination indexes including COD, BOD, TOD and TOC. Therefore, continuous measurement of organic contaminants can be made without measuring delay. In addition, there is strong correlation with COD.
Our UV meter is a product that meets standard specifications of ultraviolet photometer (UV meter) stipulated by the Ministry of Land, Infrastructure, Transport and Tourism in Japan.
This product is not affected by turbidity and contamination of measurement cell. In addition, automatic cleaning of measurement cell is performed by using chemicals at regular intervals. Thus, stable measurement is achieved.
Batch measurement can be easily performed with 1 to 2 L of sample water.
Sampling type UV meter and immersion type UV meter are available. Thus, UV meter type can be selected according to the applications.
Specifications
Item
Continuous organic mud monitor

(UV meter)

Appearance
Type
UVAM-222K
UVD-311
Measuring object
Complete treatment water in water sewage, complete treatment water and other effluent and process drainage, etc.
Complete treatment water in water sewage, complete treatment water and other effluent and process drainage, etc.
Measuring method
Continuous ultraviolet absorption spectrophotometry (single optical path, two-wavelength type)
Continuous ultraviolet absorption spectrophotometry (single optical path, two-wavelength type)
Sampling type
Direct immersion type
Measuring range
0 to 0.5, 1.0, 2.0 Abs (Selectable)
0 to 0.5 or more 2.5 Abs (COD is 0 to 1 or more: 999.9 mg/L)
Measuring wave length
(UV)254nm (VIS)546nm
(UV)254nm (VIS)546nm
Measurement accuracy
Linearity
Within ±5% of the maximum scale value
Within ±5% of the maximum scale value
Reproducibility
Within ±2%FS
Within ±2%FS
Stability
Zero drift ±2%FS/Week Span drift ±2%FS/Week
Zero drift ±2%FS/Week Span drift ±2%FS/Week
Measurement sensitivity
0.005Abs
0.005Abs
Response speed
90% response: Within 30 seconds
90% response: Within 30 seconds
Output signal
DC4 to 20 mA (maximum load resistance: 600 Ω)
DC4 to 20 mA (maximum load resistance: 600 Ω)
Contact output
Classification
Lack of sample water, disconnected light source, electric leakage, power outage, during maintenance and during cleaning
Selecting any 3 points from disconnection of light source, exceeding FS (full-scale), falling below FS, washer error, exceeding the upper limit, falling below the lower limit, detector error, collective error of meters
Capacity
No-voltage a contact (DC24 V 1 A)
No-voltage a contact (AC100 V 0.5 A)
Sample water condition
Temperature
0 to 40°C (no freezing)
0 to 40°C (no freezing)
Pressure/ withstanding pressure
-
0.1MPa
Flow rate
2-10L/min
-
Surrounding environmental condition
Temperature
0-40°C
0-40°C
Humidity
15 to 85%RH or less
45 to 85%RH or less
Power source
AC100V±10% 50/60Hz 100VA
AC100V±10% 50/60Hz 100VA
Weight
Transformer
Approx. 120 kg (stand panel)
Approx. 7 kg (single unit)
Detector
-
Approx. 5 kg