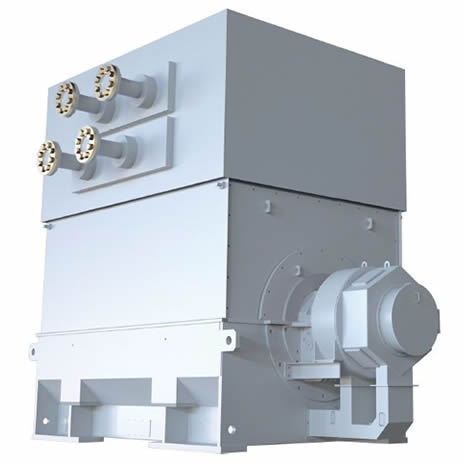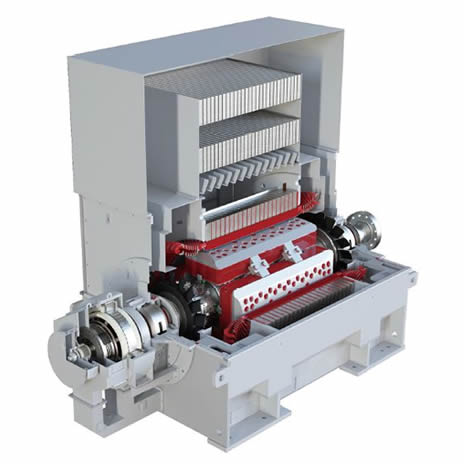 Turbine Generator

4-Pole Turbine Generators (New Series - Salient Pole)

New series air-cooled turbine generator which uses a salient pole. Its prime movers are steam turbines, gas turbines, etc.
Product Features
We have long years of experiences in turbine generators. We have our solid customer bases at home and abroad. Its prime movers are: steam turbine, gas turbine, furnace top pressure recovery turbine, etc. etc. It offers a stable operation as power supply for continuous, emergency and peak-shaving use for for general industry or power utility.
We realized high efficiency and high reliability by adopting solid casting salient pole rotor.
Due to the brushless design of a permanent magnet generator (PMG), it offers the easy maintenance.
Compact and lighter weight structure to meet the needs for integrated or divided transportation.
It secures the high reliability by adopting an integrated impregnation insulation method.
It improved the reliability by adopting the latest design technology.
It offers the sophisticated control by combining the digital AVR (automatic voltage regulator)
Specifications
4-Pole Synchronous Generators - Standard Specifications

Item
Standard Specifications
Modified Specifications
Environmental conditions
Ambient temperature
-15 - 40°C
Please specify when non-standard specifications are needed.
Altitude
1,000 m or less
Humidity
90% or less
Types of rating
Continuous

Please specify when non-standard specifications are needed.

Output
10,000kVA - 60,000kVA
Voltage
6,600/11,000V/13,800V
Power factor
90% (lagging)
Frequency
50Hz/60Hz
Number of poles
4-pole
Applicable standards
JEC2130/IEC60034
Protection method
IP44
Cooling system
*TEWAC/CACA
Thermal class
155(F)
Temperature rise limit
155(F)
130(B)
Type of the rotator
Salient pole type
Lubrication system
Forced lubrication
Bearing support system
Double bearings
Excitation system
Brushless type with permanent magnet generator (PMG)
Brushless type with excitation transformer
*

TEWAC:Totally Enclosed Water to Air Cooled
CACA:Totally Enclosed Air to Air Cooled
Inquiries about this product

[PGPB Planning & Coordination Division]