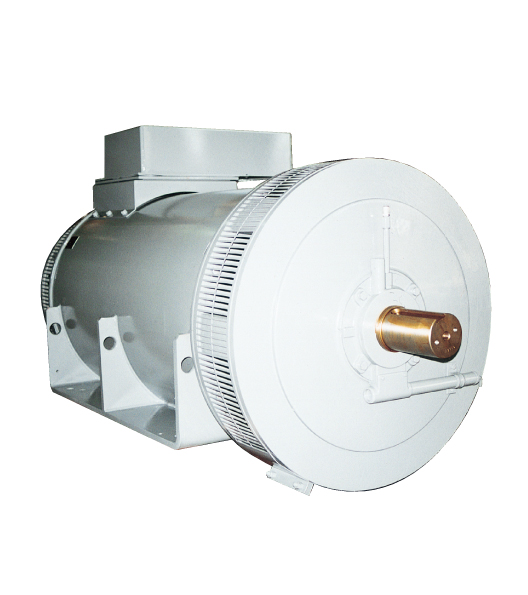 Turbine Generator

Turbine Generator-Small and Medium Capacity Synchronous Generators

Below 5,000 kVA generator for gas turbine, etc.
Product Features
Compact size and light weight
High reliability
High performance
Easy maintenance and inspection
Low noise
Quick delivery
Applications and Solutions
It works as the power supply for emergency, peak-shaving and continuous use (combined heat and power (CHP)) for buildings, hospitals, factories, etc. and contributes to all societies and all industries.
Specifications
Standard Specifications

| Item | Standard Specifications | Notes |
| --- | --- | --- |
| Applicable standards | JEC‐2130(2000)、JEC‐2131(1985)、JEC‐1354(1998) | It is also compatible with overseas regulations besides the IEC. |
| Type | Rotating magnetic field salient pole type, with a damper winding | |
| Protection degree | IP20 (protection type) | The IP22 (drip-proof protection type) can also be produced. |
| Cooling system | IC01 (free ventilation type) | |
| Rated output | 150kVA to 5000kVA | |
| Number of poles | 4-pole | |
| Rated voltage | 200/200V、400/400V、3300V、6600V | The 210 V type, the 415 V type, etc. can be also produced. |
| Frequency | 50Hz、60Hz | |
| Power factor | 0.8(lagging) | |
| Number of phases and number of wires | Three-phase three-wire system | The 3-phase 4-wire type can also be produced. |
| Type of rating | Continuous | |
| Thermal class | Class F | |
| Excitation system | Brushless excitation system | |
| Bearing system | Grease sealing system | It is a partial grease supply system. |
| Color of the coated shaft | Munsell symbol N5 | |
Inquiries about this product

[PGPB Planning & Coordination Division]