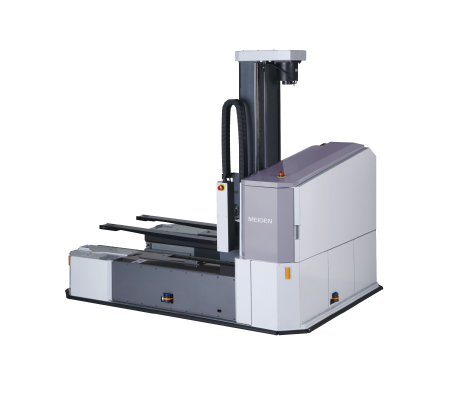 Automatic guided vehicle (AGV) systems

Forklift Type AGV (3ML-M11: AGV for Four-way Pallet Transfer )

It is a forklift type AGV optimized for pallet transfer.
Product Features
In addition to forward/rear travel, it can offer traverse, sidling and spin-turn travel. It comes as standard features. It can turn in a small radius.
Both travel and elevation are electrically operated and completely oil-free, avoiding oil spill contamination of the floor surface. Further, it supports the laser guided system. and it can be used in a clean environment where the wire installation work for wire guided AGV is difficult.
Maximum load 1,100 kg, maximum elevation height 1,800 mm, and maximum travel speed 60 m/min.
An obstacle sensor is installed on the fork tip to address any contact with obstacle when the AGV moves with the fork part in the front position. Using the safety design with due consideration of the AGV gravity center, it realizes the strable transfer of heavy carrier.
All-directional travel function
Light weight and compact design
Oil-free electric fork type
High performance even as a forklift
Specifications
| | |
| --- | --- |
| Guided system | Magnetic tape or laser radar |
| Traveling drive | 2 wheel differential drive units X 3 units |
| Direction of travel | Forward/rear travel Traverse travel Spin-turn |
| Maximum travel speed | 60m/min |
| Maximum lifting height | 1,000 mm, 1,800 mm (Optional) |
| Maximum lift elevating speed | 250mm/sec |
| Reach stroke | 1350mm |
| Reach speed | 250mm/sec |
| Dimensions of the transfer pallet | Max.1200×1200mm |
| Maximum loading capacity for carrier | 1,100 kg (load center 600 mm, deviation of the center of gravity ±50 mm) |
| Stopping accuracy | End of the machine ±10 mm End of the fork ±30 mm |
| Vehicle dimensions | W2278×L1748×H1738mm |
| Minimum turning radius | 1,500 mm (forward/rear travel 15 m/min) |
| Vehicle weight | 2050kg |
AGV Navi
For details, please refer to our "AGV Navi" (a special website) that introduces our automatic guided vehicles.
Inquiries about this product