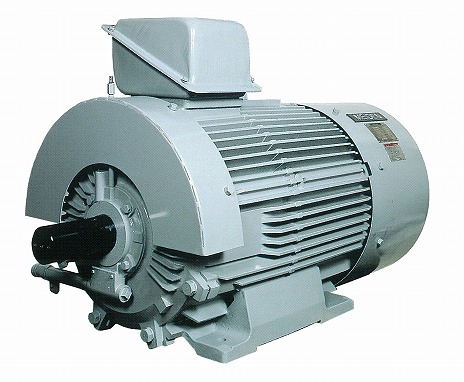 Corporate Overview
Maintenance of Rotating machines and Electric Motor
When a sudden failure occurs in the rotating machine in use, it will cause a great damages in terms of lost time and costs as well as social trust. Therefore, preventive maintenance is important by carrying out planned maintenance in order for the customer to operate the facility without worrying about the failure.
Features
We can offer "one-stop technical support service": covering inspection, diagnosis, maintenance, and replacement.
We also propose the optimal maintenance plan based on the results of the inspection and the diagnosis.
Facility maintenance and inspection
Example of inspection of the rotor
Visual inspection of generator inside

The visual inspection of the interior is conducted by removing the cover.
In the case of a detailed inspection, an inspection with a fiber scope is performed at the same time.
Inspection by releasing a bearing metal

The metal releasing inspection is performed in the detailed inspection when metal is used for the bearing.
Checking of color of the bearing metal

The color checking of the bearing metal is performed when the open inspection of the bearing is carried out.
Cleaning of the air cooler

In the detailed inspection of the air cooler, the inside of the element is cleaned, and a water pressure resistance test is carried out.
Inspection of the carbon brush

The inspection of the wound-rotor type induction motor is performed by focusing on inspection and cleaning of the current-collecting part.
The inspection of the sliding surface of the carbon brush is shown in the photo.
Facility diagnosis
A rotating machine gradually deteriorates during operation through the effects of electrical and mechanical stresses and thermal cycles.
The insulation diagnosis of medium voltage rotating machines is effective for preventing the coil from being burnt out suddenly and for examining the timing of implementation of planned overhaul because the deterioration of insulation of the coil can be examined by carrying out an insulation diagnosis test.
The best timing for replacing the bearing can also be confirmed because the progression of deterioration can be examined by carrying out a bearing diagnosis on a rotating machine with the bearings.
Outer appearance of the insulation diagnosis car
Measuring devices for the insulation diagnosis
Bearing diagnosis
Example of maintenance of the rotor
Scene of the on-site bearing replacement

The old parts are replaced with new ones for the maintenance of a bearing.
It is possible to perform the replacement of a bearing on the site.
Steam rinse in the factory

>When the overhaul is performed, the machine is brought into the factory, cleaned, dried and treated with varnish, and the replacement of parts and tests are performed.
The steam rinse is shown in the photo.
Recommended period of replacement of main parts of the rotator
The recommended period of replacement is presented for the main parts of the rotating machinery.
Technical support service information
Click here for the details of the maintenance services and locations of Meiden Group.
Inquiries about this product