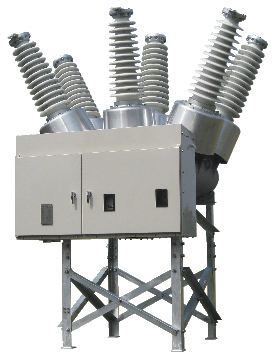 Vacuum Circuit Breaker (VCB)

Dry Air Insulated Dead Tank Vacuum Circuit Breaker

This is an environmentally-friendly vacuum circuit breaker (VCB). Considering the climate change, we made VCB with totally SF6 gas-free and resource and energy saving features.
Product Features
Dead Tank Type VCB optimized for green procurement. It uses dry air for insulation in place of the SF6 which is specified as a greenhouse gas. Our basic design concept is to realize the environmental factors in design (The 3Rs (Reduce, Reuse, and Recycle) + LS (Longuse & Separable)) and life-cycle cost (LCC) reduction as basic concepts.
[Reduce] No use of SF6 gas (a greenhouse gas), reduction of eddy current loss by adopting an aluminum tank, reduction of mass by using aluminum materials, and compact design.
[Reuse / Recycle] Reuse of non-rusting and non-corrosive components (reuse of the aluminum and copper materials)
[Long Use] Longer operational life by adopting the VCB
Long operational life without requiring the repair paint work as it uses the aluminum materials
[Separable] Ease of decomposition and collection (no need to collect SF6 gas by collection equipment , no need for SF6 gas reprocessing)
Applications and Solutions
36/72/84 kV VCB (for Japan Market ) - compliant with the JEC-2300 Standard (for AC circuit breakers).
36/72.5 kV (for overseas markets ) - compliant with IEC 62271-100-2008 and ANSI C37.06-2009.
Specifications
Type and rating

Type

NVBOA-30732B

NVBOA-60732BB
NVBOA-60832BB

NVBOA-60740BB
NVBOA-60840BB

Rated voltage (kV)

36
72.5

Withstand
voltage

1 min power frequency (kV rms)

70
140

1.2x50μs impulse (kV peak)

200

350

Rated frequency (Hz)
50/60
Rated normal current (A)
2000

2000/3150

Rated short circuit breaker current (kA)

31.5

40

Rated transient recovery voltage

Rate of rise

(kV/μs)

1.19

1.47

First pole to clear factor
1.5
Rated short circuit making current (kA)
82

104

Rated short time current (kA)
31.5 (3s)

40 (3s)

Rated breaking time (cycle)
3
Rated opening time (s)
0.033

0.03

Make time with no load (s)
0.05

0.10

Operating duty

O-0.3s-CO-15s-CO
Closing control voltage (Vdc)
48, 100, 110, 125, 250
Rated tripping voltage (Vdc)
48, 100, 110, 125, 250

Supply voltage for

charging motor

(Vdc)

48, 100, 110, 125, 250

(Vac)

60, 120, 240

Rated dry-air pressure

0.5MPa-g (at 20℃ )

Closing operation system

Spring

Tripping control system

Spring

Applicable standard

IEC 62271-100-2008, ANSI/IEEE C37.06-2009
Inquiries about this product