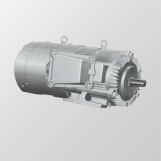 Special electric motors

Gate motor

Motor for Water Gate complying with the Technical Standards for Water Gates and Iron Pipes in Japan
Product Features
This motor is specially developed for opening and closing a water gate and it complies with the draft Technical Standards for Dam and Water Equipment Facilities. The draft specifies the starting torque set to 200% or more of the rated torque and maximum torque set to 300% or less of the rated torque. There is no deterioration of the function of the winding wire even when exposed to weather and direct sunlight because it is treated with humidity resistance insulation processing and it is an outdoor installation type.
An AC electromagnetic brake is used for the built-in brake: the response is quick, and it is especially effective at the time of braking.
Starting and maximum torques
Capable of being used outdoors
Highly responsible brake built in
Applications and Solutions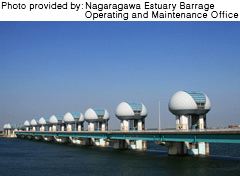 The gate motor is a motor that is effective not only for water gate opening and closing facilities but also for a constant torque load that requires high torque, such as elevating. (The photo on the right is a riverbank of the Nagara River where our gate motos are used. The photo provided by: Nagaragawa Estuary Barrage Operating and Maintenance Office)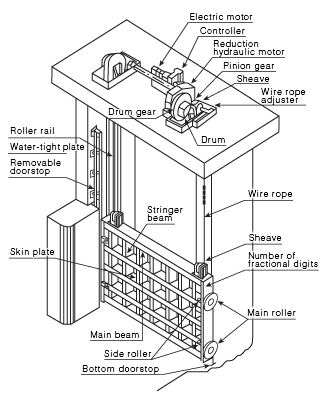 Line-ups (maximum torque 300% or less)

Starting torque 200% or more
Commercialized 6-pole motor series from 0.75 kW to 55 kW. Capable of manufacturing 4-pole motor or 8-pole motor series on top of the 6-pole motor series
Capable of manufacturing pole-change type motors. The speed ratios are 1:2 of 6-pole/12-pole, 1:3 of 4-pole/12-pole, 1:4 of 4-pole/16-pole, etc.
A built-in brake is the standard up to 225 frames, and centering of both axes is the standard from 250 frames. Capable of supporting the centering of both axes of 225 frames or less

Line-up (maximum torque 250% or less)

Starting torque 200% or more
Maximum torque 250% or less - The maximum torque is suppressed to 250% or less to protect the mechanism during abnormalities in the opening and closing mechanism. Contribution to saving of the facility cost by taking a role of further relaxing the mechanical strength of the gate mechanism than conventionally.
Commercialized 6-pole motor series: from 0.75 kW to 55 kW.
For standard rated output, we adopt the second series offerings based on the IEC Standard rated output. By this adoption, we could provide the option with more accurate proper output.
Adopted the AC electromagnetic brake directly driven by an AC power source. We secured high reliability for braking operation.
Suppression of momentary speed variation at the time of gate opening and closing by implementing rated speed that is close to that of the standard motor
Specifications
Starting torque and maximum torque
Frame number
Output

(kW)

Number of poles
Notes
200%-300%
80M-225M
0.4-30
6
(Brake built-in)
200%-250%
80M-225S
0.4-30
6
(Built-in brake)
200%-250%
250M-315S
37-55
6
(Brake exterior)
In case your required specification is not covered in the table, please feel free to contact us by using the inquiry form here.
Quick reference table
This is a quick reference table showing the ranges of each series motor voltage and capacity . Just one look, you could see our offerings.
Special electric motors

Category
Models
voltage
Output

(kw)

200V/
400V

Brake motor

Brake motor
200V/
400V
AC brake motor
Open drip-proof wound rotor type
3000V/
6000V
KM-100 series
Open drip-proof guarded wound rotor type
JU2000 series
Open drip-proof guarded type
JS2000 series
Totally enclosed, water cooled (heat exchanger) type
JS2000 series
2-pole low noise type
3000V/
6000V
/11000V
AC motor and DC motor
24-96(V)
Inquiries about this product