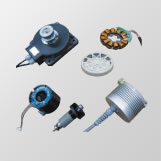 Special electric motors

DC Brushless Motor

It can meet the effective design requirement such as squamous structure.
Product Features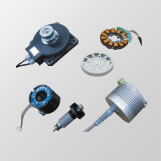 There are an outer rotor type, an inner rotor type, and an axial type. They are used in a wide range of applications such as opening and closing a door (photo top left), for compressors (photo top right), for electric tools (photo bottom left), for medical devices (photo bottom right), and for health appliances.
Small size and lightweight
Customizable
Wide range of appplication
Specifications
| | |
| --- | --- |
| Number of poles | 4-20 |
| Output (kW) | 0.05-7.5 |
Please feel free to contact us for the specifications that are not described in this table using the contact form.
Quick reference table
This is a quick reference table in which the ranges of voltage and capacity of the motor of each series are clear at a glance.
Special electric motors

Category
Models
Voltage
出力

(kw)

200V/
400V

Brake built-in motor

Brake motor
200V/
400V
AC brake motor
Protection drip-proof free ventilation winding wire type
3000V/
6000V
KM-100 series
Protection drip-proof free ventilation winding wire type
JU2000 series
Protection drip-proof (open drip-proof) type
JS2000 series
Fully closed water cooled heat exchanger (fully closed inner cooled) type
JS2000 series
2-pole low noise type
3000V/
6000V
/11000V
AC motor and DC motor
24-96(V)
Inquiries about this product