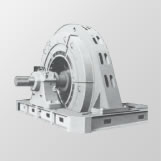 Special electric motors

High Voltage Synchronous Motor

High precision special electric motor. We would like to meet the various customers' requirements.
Product Features
It is a high precision special electric motor in which the rotation speed is steady regardless of the load fluctuation.
By adopting the brushless design, it could be use even in bad installation conditions. Further, the operation and the maintenance management became very simple. Since the rotor is dividable, shipment became relatively easy.
High precision
Easy maintenance
Specifications
Output

(kW)

200-10,000
voltage
3 kV system, 6 kV system, 11 kV system
In case your required specification is not covered in the table, please feel free to contact us by using the inquiry form here.
Quick reference table
This is a quick reference table showing the ranges of each series motor voltage and capacity . Just one look, you could see our offerings.
Special electric motors

Category
Models
Voltage
Output

(kw)

200V/
400V

brake motor

Brake motor
200V/
400V
Open drip-proof guarded wound rotor type
Open drip-proof wound rotor type
3000V/
6000V
KM-100 series
Open drip-proof guarded type
JU2000 series
Open drip-proof guarded type
JS2000 series
Totally enclosed, water cooled (heat exchanger) type
JS2000 series
2-pole low noise type
3000V/
6000V
/11000V
AC motor and DC motor
24-96V
Inquiries about this product