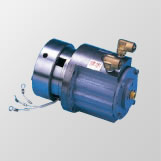 Special electric motors

High speed electric motor

We have a wide range of elelctric motor offerings for various high speed applications by induction motors and PM motors.
Product Features
This electric motor can be used for various applications requiring high rotation speed such as high speed cutting, grinding and winding.
We respond to a wide range of requests including built-in motors and complete electric motors.
Applicable to special specifications
Various high speed applications
Specifications
Output

(kW)

0.6
6
110
Rotation speed (min-1)
120,000
20,000
7,200
Types
Induction motor (IM)
Induction motor (IM)
PM motor
Please feel free to contact us for the specifications that are not described in this table by using the Internet inquiry form.
Quick reference table
This is a quick reference table showing the ranges of each series motor voltage and capacity . Just one look, you could see our offerings.
Special electric motors

Category
Models
Voltage
Output

(kw)

200V/
400V

Brake built-in motor

Brake motor
200V/
400V
AC brake motor
Open drip-proof wound rotor type
3000V/
6000V
KM-100 series
Protection drip-proof free ventilation wound rotor type
JU2000 series
Drip-proof (open drip-proof) type
JS2000 series
Fully enclosed water cooled heat exchanger (fully enclosed inner cooled) type
JS2000 series
2-pole low noise type
3000V/
6000V
/11000V
AC motor and DC motor
24-96V
Inquiries about this product