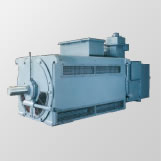 Special electric motors

High Voltage Wound Rotor Type Electric Motor

Working in various industrial machines. Compact and lightweight design allows the energy and space saving.
Product Features
Due to the process of our vacuum impregnation which we received high marks through the long-term operation track records, our motor shows the excellent characteristics in terms of heat resistance, humidity resistance, chemical resistance, and anti-seismic capacity.
Energy saving
Low noise and low vibration
Bearings and a terminal box which provides safe and simple maintenance.
Specifications
Number of poles
2
4
6
Output

(kW)

250-1000
75-5000
75-4000
voltage
3 kV system
Number of poles
2
4
6
Output

(kW)

250-1000
132-4500
132-3550
voltage
6 kV system
Please feel free to contact us for the specifications that are not described in this table using the contact form.
Quick reference table
This is a quick reference table showing the ranges of each series motor voltage and capacity . Just one look, you could see our offerings.
Special electric motors

Category
Models
Voltage
Output

(kw)

200V/
400V

Brake motor

Brake motor
200V/
400V
AC brake motor
Open drip-proof wound rotor type
3000V/
6000V
KM-100 series
Protection drip-proof free ventilation winding wire type
JS2000 series
Open drip-proof guarded wound rotor type
JS2000 series
Totally enclosed, water cooled (heat exchanger) type
JS2000 series
2-pole low noise type
3000V/
6000V
/11000V
AC motor and DC motor
24-96V
Inquiries about this product