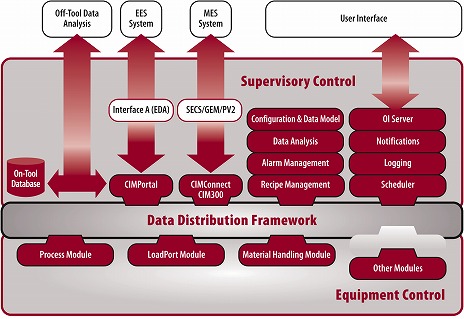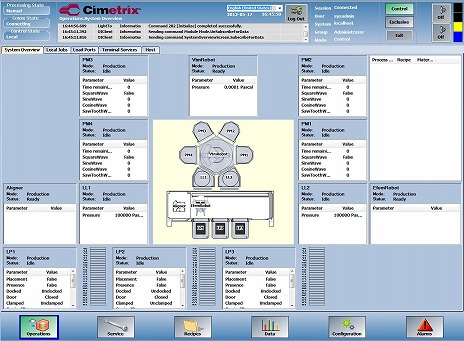 Semiconductor manufacturing equipment

Equipment Control Solutions: CIM Control Framework™ (manufactured by Cimetrix)

Framework for building a control system for semiconductor or liquid crystal manufacturing equipment
Product Features
CIM Control Framework (CCF) TM CCF is a framework for building a control system for semiconductor or liquid crystal manufacturing equipment using the latest software technology.
By using this framework product, the system builder could develop a control system software for such manufacturing sytems compliant with the latest SEMI Standards in a short period of time at low cost.
By adopting the data-driven architecture, it can handle the high speed data.
We realized the works of addting or updating each function at the highly productive manner by adopting service oriented architecture.
By adopting the latest programming environmen, we provide a highly efficient environment for your programming work.
Fully compatibile with the GEM/GEM300 Standards
Fully compatibile with the EDA (Freeze Version II)
By adopting the open source softwares, the user yourself can perform the software maintenance (modification, amendment, repairing the malfunction code, etc. )
Building equipment control made easy.
"High level equipment control called for by the latest FAB made easy "
High speed data driven architecture which Cimetrix developed in CIMPortal has been adoptedTM This enables high speed data handling within the framework. In so doing, we could easily support the latest user needs for APC, FDC, etc.
In addition, the module coupling is low and functions can be easily added and upgraded because it has modular architecture written with C# codes that are completely object-oriented.
Of course, the latest end user required specifications can be easily supported by adding Cimetrix main products GEM/GEM300 and EDA.
Furthermore, the source codes of the CCF are open to the user. This is an important factor for quality assurance in the development of equipment.
Related SEMI standards
SEMI E5 SEMI Equipment Communications Standard 2 Message Content (SECS-II)
SEMI E30 Generic Model for Communications and Control of Manufacturing Equipment (GEM)
SEMI E37 High-Speed SECS Message Services (HSMS)
SEMI E39 Object Services Standard: Concepts, Behavior, and Services
SEMI E40 Standard for Processing Management
SEMI E84 Specification for Enhanced Carrier Handoff Parallel I/O Interface
SEMI E87 Specification for Carrier Management (CMS)
SEMI E90 Specification for Substrate Tracking
SEMI E94 Specification for Control Job Management
SEMI E95 Specification for User Interface
SEMI E99 Specification for SECS-I and SECS-II Protocol for Carrier ID Reader/Writer Functional Standard
SEMI E116 Specification for Equipment Performance Tracking
SEMI E120 Specification for the Common Equipment Model (CEM)
SEMI E125 Specification for Equipment Self Description (EqSD)
SEMI E132 Specification for Equipment Client Authentication and Authorization
SEMI E134 Specification for Data Collection Management
SEMI E148 Specification for Time Synchronization and Definition of the TS-Clock Object
SEMI E157 Specification for Module Process Tracking (MPT)
Inquiries about this product