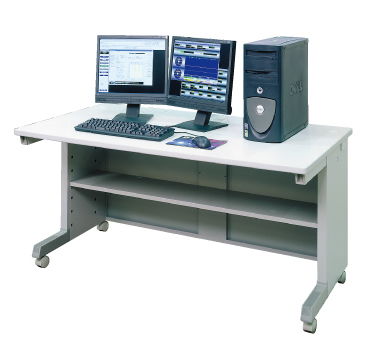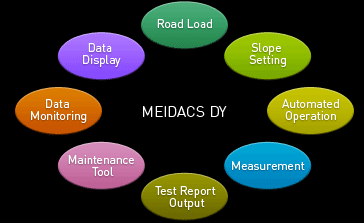 Operation and measurement systems

Measurement Control System: MEIDACS DY6000P

We realized the fast response of 100 μsec by this measurement control system.
Product Features
The MEIDACS DY6000P demonstrates its power on monitoring, collecting, and computing various test data. We are working on the development of systems that are closely related to driver's operation such as exhaust gas analytical treatment and also of system to perform the data processing as well as automatic self-driving in order to improve test efficiency and accuracy.
It can perform the high precision simulations on engine characteristics and special simulations of vehicles.
It can perform mode operation of a chassis dynamometer in an engine bench.
It realized stable operation by the continuous operation of forward and reverse rotations and disturbance torque suppression control.
Fast search capability out of the big data of the past test records.
Applications and Solutions
Equipped with the high speed control unit, it can realize tests of multiple-dynamometer transmissions in addition to engine transient tests and complete vehicle tests.
By registering the self-driving pattern mode, it can perform the pre-determined driving operation mode. In addition, it can perform the simulation tests such as virtual vehicle simulation tests and virtual engine simulation tests.
Further, it can network to other measuring devices by LAN and CAN, and various data can be measured automatically from these connected measuring instruments.
Systems for product
Automobile engine performance test system
Electric vehicle performance test system
Exhaust gas emission test system
Transient exhaust gas emission test system
各種コンポーネント試験システム
Main functions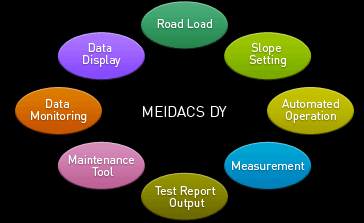 Inquiries about this product