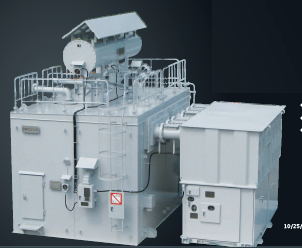 Transformer

Shunt Reactor

Meiden Transformers are standard design, standard quality.
Product Features
In the system of ultra-high voltage overhead line and cables for the major purpose of transmission of large electric power, static capacitance between line and ground is generally large and leading current flows during light load operation.
This leading current actually raises system voltage at the receiving end. Such a phenomenon sometimes make it difficult to regulate generator voltage at the transmitting end and also to control substation power at the receiving end, A shunt reactor can be directly connected to the power, thus increasing the energy efficiency of the system.
The shunt reactor can be directly connected to the power line or to a tertiary winding of a three-winding transformer. MEIDEN shunt reactor designed minimize losses, sound and vibration, using radial block cores, ceramics spacers.
Compensation of the higher capacitive reactive power.
Reduced transmission losses.
Reduction of net work-frequency overvoltage's in case of load variations.
Inquiries about this product

[Overseas T&D Sales Devision]