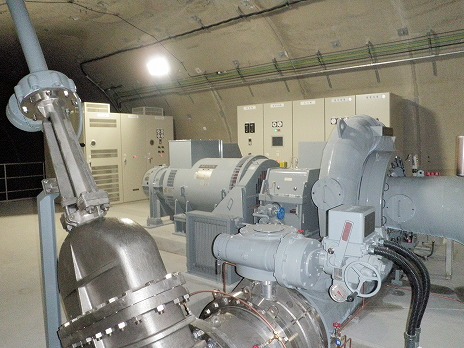 Construction works

Hydroelectric power plant construction work

Currently, Japan promote the policy to make the best use of renewable energy resources as a effective measure to reduce the CO2 emission in our efforts to realize the low carbon society. Among the renewable energy resources, the hydroelectric power has been actively utilized for a long time in Japan. We have many track records of hydroelectric power plants at home and abroad covering from mid and small capacity to large capacity. We could propose the best hydroelectric power generation method based on the waterfall level and the water volume.
Features
We provide the "one-stop technical support services" for hydroelectric power plant covering from its feasibility study, system design,construction work, equipment manufacuring(procurement) , on-site commissioning tests, facility operation management and to the maintenance. Further, for the facility control, we adopt total system control by a multi-functional all-in-one control device for a hydroelectric power plantn featuring ultra-compact and easy-to-operate and maintain design.
Functions of the all-in-one control device
Protective relay functions for the power generation facility

Many built-in relay functions such as overcurrent relays, overvoltage relays, speed relays, and frequency relays.

Magnetization control function

The magnetization control is performed when a synchronous generator is used.

Speed governor control function

Control function for a speed governor is equipped.

Synchronous control function

Synchronous function is equipped to control the grid-connection
Inquiries about this product